---
Marmot PreCip rain jacket for men is a very popular waterproof and breathable piece of clothing, suitable for hiking and any outdoor activity, as well as for daily life. With all great features, this 2.5 layers jacket comes with an exceptionally great price.
Description & construction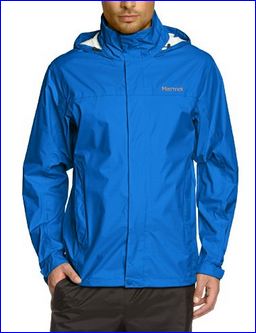 This is a shell jacket with Marmot's NanoPro 2.5 layers of waterproof technology. So this is a piece of equipment which will definitely keep you dry. All seams on this jacket are sealed and you can be sure there will be no leak.
At the hem, there is a pull cord to adjust the length. On the cuffs, you have velcro tabs for adjustability.
The hood is quite large (see the picture below) and with a velcro tab on the back for adjustability, and it can be nicely rolled into the collar. This velcro tab you will use in order to adjust the position of hood's brim above your brows.
In cold and windy weather the hood cinches comfortably around your face. For this purpose, there are elastic cords on both sides. On the collar, you have a pleasant patch that comes into contact with your chin.
Marmot PreCip jacket comes with a long pit zip (see below), a feature that you might love to have. Note that this pit opening does not have a mesh on it; some more expensive jackets do have such a feature.
There are two side zippered pockets, with a mesh structure. Apparently, such a design is used to increase ventilation (through the pockets). You have the same feature in Columbia Watertight II rain jacket.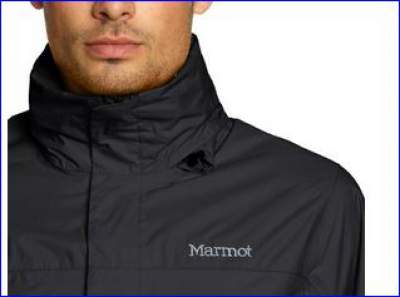 You should know that the whole jacket can be stowed in its left-side pocket. You will most certainly love this feature because it allows you to pack the jacket into a really small volume and to carry it in your pack, or in your suitcase. In such a packed shape, it has a loop to clip it onto your pack.
The front zip is with a storm flap and with a button, there are velcro tabs under the flap as well.
Yet another nice feature is what is known as angel wing. This implies that the jacket is constructed in such a way as not to ride up on you when you move, raise your hands, etc. So your waist will still be covered when your arms are up. As you know, some of those athletic jackets will move up a lot when you raise your arms.
The whole construction of the jacket is such that it is a very comfortable and relaxed design, which will allow you to put a lot of extra layers under it without any problem.
About Marmot company you may find a few lines here. Note that there exists also PreCip rain jacket for women.
Please see this very informative video about the Marmot PreCip jacket for men:
Material
This 2.5 layers jacket has been on the market for many years, so there are many different versions of it, and the quality of the material has been improving all the time. The NanoPro coating is a relatively new feature, bear this in mind if you read some old reports.
The material used here is a good and durable ripstop nylon. This makes it more durable than the mentioned Columbia Watertight II rain jacket.
What is NanoPro
NanoPro is the best coating technology ever used by Marmot, with 30% smaller microporous structure and 43% more breathable than their coating technology used in previous versions. It is dynamically air-permeable and it allows for air exchange and helps shed excess moisture vapor without compromising the waterproofness or windproofness of the jacket.
The result is a fabric with permeability and breathability features which allow an incredible comfort for a wide range of activities.
This technology allows for:
Waterproofness: 10,000 mm minimum JIS-L 1092.
Breathability: 17,000 gm / 24h minimum JIGS-1099 B1.
Hohenstein RET: 5.0 to 5.4.
See more about this NanoPro technology in the second video below.
What is the meaning of 2.5 layers
In this system, you have an outer shell and a waterproof membrane on its underside, which is additionally protected by a half-layer.
This construction is considered as more modern, as compared with the traditional 2-layer system where you have the shell and the membrane, plus a comfortable mesh liner inside the jacket. So as you see, what is called 2-layer, in fact, implies 2+1 layers.
I find the traditional type more comfortable and warmer. With such an extra mesh layer you do not have a direct contact with the membrane which is not always pleasant by touch. Such jackets are more airy and bulkier. I have two Gore-Tex jackets of that type, Eider, and Sprayway.
---
Breathability and ventilation
Breathability is never perfect in any of the waterproof jackets, and it depends on what you are doing and on external conditions, read more in my another text. I have several jackets of this kind and this has not been an issue for me when I go to the Alps. It definitely helps having the mentioned pit openings.
Marmot PreCip jacket is indeed very breathable. But bear in mind what I have mentioned above, they have been improving this jacket through the years. So if you read some complaints about breathability, please check the date. The new versions have been improved for 43% as compared with the first versions of this model.
If you are looking for a jacket which you will use for exceptionally hard physical activities, then you might look for something even more breathable. There are such jackets available on the market, like Marmot Essence for example, but see the price.
---
Technical specifications & summary of features 
Weight: dependent on size, around 13.1 oz (371.4 g).
NanoPro technology, waterproof/breathable.
100% seam taped.
Full visibility roll-up hood with integral collar.
Pit zips.
Pack pocket.
Double storm flap over zipper with snap/velcro closure.
2.5 layer microporous coating with Dry Touch finish.
Elastic drawcord hem.
DriClime lined chin guard.
Angel-Wing movement.
NanoPro 100% Nylon Ripstop 2.2 oz/yd.
Colors available: 26!
---
Care & maintenance
Machine wash cold, with like colors.
Use powdered detergent.
No softeners.
Tumble dry low with closed all fasteners.
Do not: iron, bleach, dry clean.
---
Pros & cons, users' experience
Be careful when/if you read various reports about this jacket, I have seen reports that go as far back as to 2009. As mentioned above, this is a long-existing model, that has been improved and modified in the past.
So if you read that it is not breathable and that it is not waterproof, please check the date. Read more recent reports.
No doubt, you will notice that there are much lighter rain jackets on the market. But note that those usually do not have pit zips (which definitely add to the weight), and sometimes they even come without pockets (note, zippers on pockets also add to the weight). I am sure I would never want a jacket without pockets, but that is just me.
 Cons
 Pros

No internal pockets.
No chest pocket.

Very affordable, great price.
Completely waterproof.
Very breathable.
Versatile.
Durable ripstop material.
Great wind protection.
Great variety of colors & sizes.
Nicely packable.
Roll-away hood.
Machine washable.
---
Conclusion
To conclude this Marmot PreCip rain jacket for men by stressing again its incredible features and the price. This is a jacket very suitable for any outdoor purpose, regardless of the amount of physical activity. So nicely packable, it is a great piece to have with you on your extended backpacking tours.
From the pictures above you realize that this jacket is not only for outdoor activities, but it is also very useful in everyday life as well. I use my own jackets in the same manner, all the time.
The jacket can be combined with the waterproof pants of the same material described in the site, so please have a look here. You will have full-body protection from elements. You might want to check also this new 2017 Magus jacket for men from the same brand.
Thank you for reading. I hope the text has been useful to you, and if this is so please share it with others. It will be great to hear from you regardless if you own this jacket or not. There is a comment box below. Have a nice day.