---
Marmot PreCip pants for men are lightweight and packable fully waterproof and breathable piece of garment, something you need to have in the backpack and use in emergencies, like a sudden storm or simply a cold wind. In such situations, you will be happy to have it with you.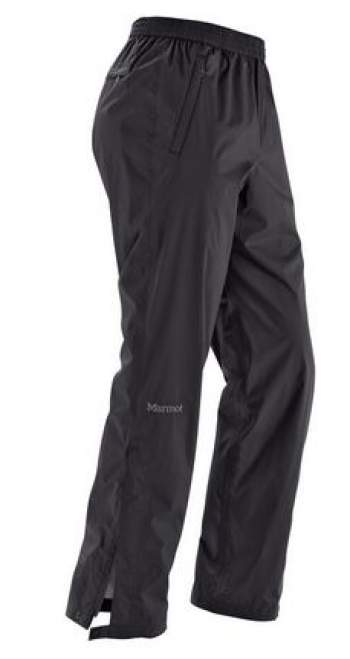 ---
Key benefits
Very breathable fabric.
Fully waterproof.
Very packable and lightweight.
---
Marmot men's PreCip pants – description
The Marmot PreCip Pant is a great option for hikers and backpackers, a piece of garment that can nicely be combined with the shell jacket of the same material which is available from this brand and described in detail in the site, you can see it here. It weighs only 9 ounces (255 g), so it will not add a lot of weight to your pack yet it may save you from serious troubles in rain and cold weather.
When I go to the Alps, I keep my own rain shell pants all the time in my backpack; no way of going anywhere without this. In everyday life, we have a lot of rain in Belgium and I ride a bicycle wherever I go, so this is something I use all the time, in all seasons.
The material used in its construction is Marmot's NanoPro waterproof and breathable, with the following features
Waterproofness: 10000 mm minimum JIS-L 1092.
Breathability: 17,000 gm / 24h minimum JIGS-1099 B1.
Hohenstein RET: 5.0 to 5.4.
To understand the full meaning of these numbers, you can see more in my another text. Here, just to stress that with this RET factor, this fabric is in the class of highly breathable materials. It is in the same group as the Gore-Tex Pro.
Regarding the waterproofness, this material is in the mid-range, yet able to withstand a hurricane-type rain. It is important to mention that all seams are 100% taped.
The waist design is simple, see the picture below, an elastic and a drawcord, no buttons or snaps of any kind, but frankly speaking, you do not need anything more.
These pants are designed to be pulled on over your regular pants in emergency situations, and for this, you have ankle side zippers and snap tabs at the cuff shown in the picture, so it is possible to take them on and off without removing shoes.
Pockets
I love to see that this pant has 3 pockets in total. This includes two zippered front hand pockets and one back zippered pocket. In my own pants (shown in my another text), I do not have any pocket and can tell you this is not so great.
---
Pros and cons
Here is my summary:
  Pros

  Cons

Very lightweight.

Very breathable.

3 pockets available.

Machine washable.
Durable material.
I really do not have any true objection. These pants have all that you need and most importantly they will protect you when necessary. Perhaps not particularly stylish, but this is totally irrelevant.
---
Specifications
Fit: regular.
Purpose: backpacking, hiking, fishing, around town use.
Material: NanoPro 100% Nylon Ripstop 2.2 oz/ yd.
Waterproof/breathable.
Weight: 9 oz (255 g).
Lengths: 30, 32, 34 inches.
100% seam taped.
Ankle side zips.
Snap tabs at cuffs.
Zip front hand pockets.
Back zip pocket.
Elastic waist with draw cord.
Warranty: limited lifetime.
---
Care & maintenance
Machine wash cold.
Use powdered detergent.
No softeners.
Tumble dry low with all zippered closed.
Do not: iron, bleach, dry clean.
---
Summary
To conclude this text about the Marmot PreCip pants for men, this is a versatile and reliable piece of garment, something you might need for yourself or a nice gift for somebody who spends a lot of time outdoors.
I wish to stress again, it is easy nowadays to make materials waterproof, but breathability is a more difficult challenge. Non-breathable or poorly breathable clothing is unpleasant and it is not suitable for dynamic activities. But the material used in the construction of these pants is indeed exceptional with regards to this issue.
You might also want to see these Outdoor Research Foray pants for men or have a look in my list of great pants for men.
If you are in search for waterproof pants for women, please see my another text with 5 great models. You will notice that there is the same PreCip model for women as well.
Thank you for reading. I love to hear from you so please do not hesitate to contact me, there is a comment box below.