---
Marmot Essence jacket for men is without a match when it comes to the weight and breathability. It weighs only 6.3 oz (179 g). This is an award-winning, 2.5-layer completely waterproof stretch rain jacket, suitable for any outdoor activity and in particular for ounce-counting backpackers.
---
Basic description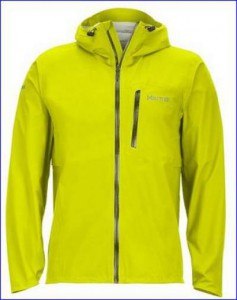 This is a jacket with the most appropriate name. Everything non-essential is removed, and the jacket is reduced to very few but essential features.
As mentioned above, Marmot Essence jacket is 2.5 layer, so you do not have a mesh liner inside. You have only one pocket on the chest, completely waterproof of course. The external fabric is really very pleasant to touch.
Regarding breathability, it is hard to find any jacket on the market to match the Essence. In addition to this exceptional breathability, you also have pit vents. So this is again something unique, different from the usual pit zip system.
These vents are always open, and with flaps, so completely protected from rain, and from inside they are covered with mesh. Hence, ventilation is enormous with this jacket and you can use it for the hardest possible outdoor activities.
Similar to some other models of Marmot, here too you have what they call Angel wing construction. This implies that the motion of arms and the torso is in no way restricted, so the jacket can be used for any type of exercises.
The cuffs are with elastic only, and you have asymmetric cut. This means that the sleeve is longer on the outer side of the hand, you can see it in the picture above.
The adjustability on the hem is based on a single toggle on the right side, and on an elastic cord which goes all the way around the hem.
The hood is with 3-adjustability points, 2 are on the sides of the face, and you have a velcro tab on the back (see the picture). So this is a nice construction, reasonably well compatible with a helmet, you will see this in the video below. The brim on the front is nicely designed, and it has a wire inside, so it is moldable.
Note: the jacket has been modified in the past, so there are differences in older reviews regarding the weight and the denier of the fabric. The data presented here are the latest version of the jacket.
Here is a useful (1:45) video about the jacket, please have a look:
Pros & cons
Such an ultra-lightweight construction surely comes at a price regarding the number of features. This jacket is indeed rather minimalist by its design. Here is a summary of pros and cons:
 Cons
 Pros

No adjustability on cuffs.
Only one external (chest) pocket.
No mesh lining.
No internal pockets.
No roll away hood.
Not (easily) packable into its own pocket.
Expensive.

Completely waterproof.
Extremely breathable.
Extremely lightweight.
Extremely packable.
In principle, you can stow it in the chest pocket but it is not designed for this; the zip is not reversible, so the process is not so smooth.
---
Waterproofness and breathability
The waterproof features of the Marmot Essence jacket are based on NanoPro technology, Marmot's own achievement in this industry. This 2.5 layer construction is Marmot's most comfortable waterproof and breathable technology ever. It utilizes a microporous Membrain, with a pore structure of only three microns in size.
The Membrain is laminated together using a new advanced process that reduces the amount of adhesive necessary to bond the membrane to the fabric.
This material is up to 140% more breathable than Marmot's previous 2.5 lamination technology. Bear this in mind when you read outdated reviews. What you have in the new versions of Marmot Essence jacket is a completely different material.
Waterproofness:
Official scale: 10.000 mm minimum JIS-L 1092.
This puts Marmot Essence rain jacket in the mid-range group of reasonably waterproof tools. This means: moderate rain, average snow, light pressure. Note, it is in the range of a hurricane rain.
Breathability
Official scale:
– 20,000 to 47,000 gm / 24h JIGS-1099 B1.
– 11,700 to 12,500 gm / 24h JIGS-1099 A1
– CFM: 0.14 to 0.20 CFM Air Permeability.
– Hohenstein RET (Resistance to Evaporative Transfer): 2.9 to 4.0.
This puts the jacket in the top group, with the highest possible breathability. To explain terminology; here, B1 describes the test method in which membrane is in direct contact with water, A1 describes the test where Calcium Chloride solution is used to simulate sweat (as opposed to A2 tests with water). For CFM conversion scale please see this pdf.
---
Summary of technical specifications and features
Weight: 6.3 oz (178.6 g).
Material: 20 denier nylon stretch ripstop 2.0 oz/yd, and stretch NanoPro membrane.
Waterproof.
Breathable.
100% seam taped.
Pit vents.
Elastic drawcord hem.
Helmet-compatible hood with a moldable brim.
1 chest pocket with water-resist
Angel-Wing movement design.
Athletic fit.
Asymmetric cuffs design with elastic.
---
Conclusion
To summarize this review of Marmot Essence jacket for men, I wish to stress again its two most outstanding features:
incredible weight (or should I say, the absence of it), and
extraordinary breathability.
There is no rain jacket presently available on the market which could match the combination of these two features of Essence. There are light jackets, like Outdoor Research Men's Helium II Jacket, but this one is far inferior with respect to breathability. Both features are essential for hard outdoor activities.
But the Essence jacket lacks some features which I love to have, like pockets, many of them. You may have different priorities, and if so, this is a truly reliable outdoor piece of equipment for you.
Thank you for reading. If this text is useful to you, it may be to others as well, so please share it. I shall be happy to have some comment from you. Have a nice day.