---
This text is about Kelty Red Cloud 65 Junior internal frame pack, the new version from 2016. As the name of the pack suggests, it is built for smaller frame people, and for juniors. This implies the following: a) adjustable torso length so that the pack can be used for many years as the kid grows, b) more narrow space between shoulder straps, c) specifically designed lumbar and hip element. The pack is perfect for extended backpacking tours and for scouts.
---
Best price and place to buy
The best place regarding the price and shipping conditions is usually Amazon.com.
For the old version check here. In the moment of writing this text, the price was the same.
---
So many great features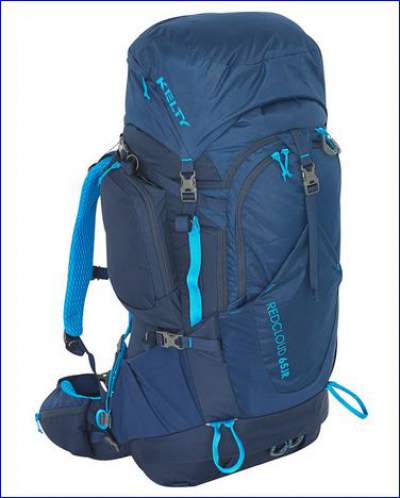 This is a hybrid top and front loading pack with many great and useful features. The collar is extendable and this gives a few liters of extra volume.
You also have a strap on the collar in the case you want to add some extra stuff, so you can cinch it down and fix.
The lid is removable and you can use it separately as a small day-pack. It has an extra strap to carry it on the back. You will see how nice this looks in the video below.
The pack is hydration compatible. So inside the main compartment, you have a water bladder sleeve.  As mentioned above, you have an extra entrance to the main compartment. This is through a long U-shaped zipper on the front.
On the bottom, you have a sleeping bag compartment with a standard U-shaped zipper. There is a removable divider between the two compartments. There are two compression straps on the bottom compartment, useful to attach a sleeping pad.
On the bottom of the pack you have a daisy chain, and two attachment loops for walking poles and ice axe. On the sides, you have two very strong carry handles. There are dual compression straps on both sides of the pack.
---
Perfect Fit suspension system
Here you have Kelty's Perfect Fit suspension system used also in some other Kelty backpacks described in this site. This implies that the harness can be shifted to adjust the torso length in the range from 14 to 18 inches.
This adjustment is done when the pack is on your back. You pull the two straps which you have on both sides. You will see how this is done in the video below.
So this is a simple and easy process which allows for the best possible fit because you have the pack on and you can feel how it fits you. This justifies the name Perfect Fit.
When this is done, you adjust the load lifters and sternum strap, and you are ready to go.
The system is based on a single aluminum stay behind the back HDPE panel. The padding on the panel is exceptional and with a great looking wide open mesh. The same structure is on the shoulder straps, lumbar area, and on the hip belt. You can see this in the pictures below.
Pockets
There are so many useful pockets here, no less than 10 outside of the pack.
Two stretchy zippered pockets are on the hip belt. On the lid, you have two zippered pockets one on top of another, very useful and good size.
On the sides of the pack you have stretchy water bottle pockets, so two in total. Higher up you have much bigger zippered side pockets, again 2 in total.
In addition to this, you have pass-through space behind the upper side pockets. This can be used to store walking poles, tent poles, or anything else of the similar shape. I really love this feature. See in the picture below how it can be used for poles.
One extra stretchy mesh pocket is on the front of the pack, it is secured with a buckle on the top. Beneath it, you have yet another big zippered organization pocket, with several smaller pockets and a key clip inside.
---
---
Here is a short promotion video from Kelty about their Junior 65 backpack:
---
Pros & cons
 Cons
 Pros

Expensive.
No rain cover.

Top quality.
Very durable.
Reliable.
Good suspension system.
Adjustability for growing youth.
Many useful features and attachment points.
The new version of the pack has not yet received any review of Amazon customers, it has been introduced very recently. But the previous version has received very high 4.8/5 average rate. The pack is relatively expensive but everything you see on it is really nicely done.
---
Summary of technical specifications & features
Weight: 4 lbs 10 oz (2.1 kg).
Volume: 3950 cu in (65 L).
Frame: internal, aluminum + HDPE.
Torso fit: 14 – 18 in (36 – 46 cm).
Dimensions: 33 x 17 x 14 in (84 x 43 x 36 cm).
Materials:
– Poly 420 D Small Back Stafford.
– Reinforcement: Poly 75×150 D Tasser Coal.
Access: top and front panel.
Top lid converts to sling pack.
2 zippered side pockets.
Large front pocket with organization.
Stretch front shove-it pouch.
2 waist belt pockets.
2 hide-away ice axe loops.
2 pick-up handles.
Hydration compatible.
PerfectFIT adjustable suspension.
HDPE reinforced waist belt.
Ventilating spacer mesh back panel.
Lumbar support.
Spacer mesh shoulder straps, waistbelt, and lumbar.
Load-lifter straps.
Belt stabilizer straps.
Sternum strap.
A single aluminum stay.
---
Main differences with respect to the old version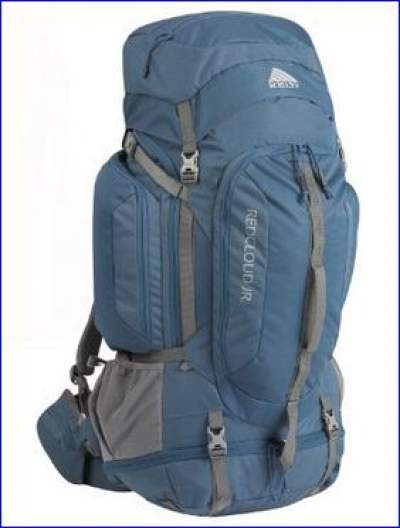 New stretch pocket added on the front. See the old model on the right.
Modified front entrance.
Completely redesigned back padding and harness padding.
The new version is heavier. The old pack was 1.8 kg.
The difference in size and volume. The old version was 29 x 13 x 10 in (73 x 33 x 25 cm) and 3900 cu in (64 L).
Single carry handle in the middle is replaced with two handles on the sides (see the picture).
Two attachment loops in the new version. One in the old model.
The central stay is not visible any longer.
In the moment of writing this text, the price of both models was the same!
---
Comparison with packs for youth from other brands
Here I give a table with several top brands' packs for youth, all of different sizes, in case you need it:
Deuter
Fox 40
Mountainsmith
Youth Pursuit
Kelty Red
Cloud 65
Junior
Weight (kg)

1.3

1.6
2.1
Volume (l)

40

50
65
Loading
top
top
top,
panel
Rain cover

no

no
no
Lower
compartment

yes

yes
yes
Zippered
side pockets
2
2
2
Harness
adjustable
yes
yes
yes
Belt pockets

no

1
2
---
Conclusion
To conclude this review of Kelty Red Cloud 65 Junior internal frame pack, this is a huge pack for extended tours, with plenty of great features which kids love. Built of high-quality materials, and with such an adjustable suspension, this pack is built to last and to grow with a kid. A great tool in every sense, I can fully recommend it.
If you need something smaller and completely different, please see this Kelty Yukon 48 external frame back. It is also designed for growing youth.

Thank you for reading. I hope this text has been useful to you. If this is so, please share it with others.
It will be great to have some comment from you, there is a comment box below. Have a nice day.
---