---
High Sierra Appalachian 75 backpack has been around for many years now. The version presently available on the market is known under the name High Sierra Classic 2 Series Appalachian 75 frame pack. This is a pack suitable for occasional outdoor tours, for beginners, and for travel.
Key benefits
Great price.
Good organization; two access points.
Great design.
Rain cover included.
---
Best place to buy
The best place regarding the price and shipping conditions is usually Amazon.com.
---
High Sierra Classic 2 Series Appalachian 75 – description
The name confusion
As I mentioned above, you might get confused with the names used for this pack. Both versions High Sierra Appalachian 75 and High Sierra Classic 2 Series Appalachian 75 are available on the High Sierra's site.
On the other hand, what you can see on Amazon (see the links below) as High Sierra Appalachian 75 is in fact the latest version High Sierra Classic 2 Series Appalachian 75.
So what I present here is the Classic 2 model. But the differences are minor in any case, see below.
---
Basic features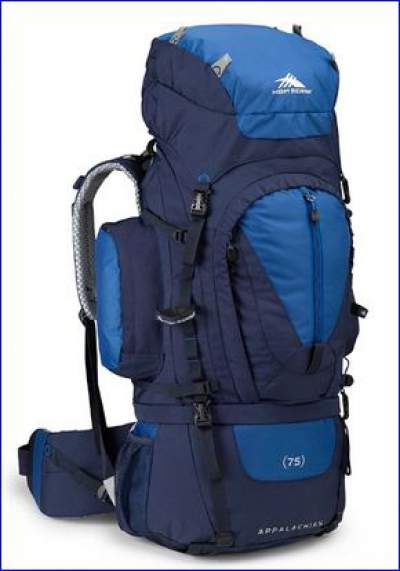 This is a pack with two access points to the main compartment. So you have:
a classic top lid, and
front panel U-shaped zippered entrance.
The lid is floating-type which implies that you can raise it up and down in case of an extra load when you expand the collar. There are four attachment loops on the top of the lid, visible in the picture on the right.
Underneath the lid, you have the usual collar with dual drawstrings, plus a compression strap to cinch the pack from above or to attach a climbing rope, a tent, a pad, or anything similar. These features are similar to what you have in the Titan 55 pack from the same brand.
The main compartment is a huge space with only a water bladder sleeve. There are hose ports on either side of the pack.
This pack has a large bottom compartment which is normally used for a sleeping bag and for items that are not particularly heavy. So you have a standard zippered entrance here. There is a true zippered divider between the two compartments, so you can open it if you need to do so. I stress the zipper, so the two compartments are indeed separated, and not with toggles which you can see in some far more expensive models.
On the sides of the pack you have dual vertically positioned daisy chains, and the usual dual side compression straps. This all is visible in the pictures.
Dual compression straps with buckles run over the bottom compartment. They are long enough to attach even rather bulky closed-cell foam pads. The straps go all the way underneath the pack so you can attach some items even completely on the bottom of the pack.
On the lower section of the pack, you also have three attachment loops for trekking poles and an ice axe.
---
---
Pockets
On the front, you have a front pocket with a vertical zipper. It is quite large but not so deep, so you may plan to store here maps or any other flat items.
A feature which I particularly like in this pack is that it has two large zippered side pockets. Not so many packs have them nowadays. They are designed so that when they are full, they do not take space from the main compartment.
The lid is with two external zippered pockets. On the sides, you have the usual mesh stretch pockets for water bottles or for any elongated object, like tent poles, which you would fix with the straps above the pockets.
---
The suspension system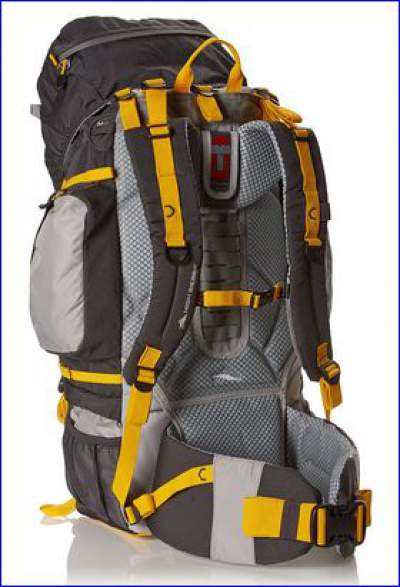 The suspension in this pack is rather simple, supported by two aluminum stays that are positioned vertically along the back. You have access to them from the main compartment, and in fact you can remove them as well.
Here you have what they call ERGO-FIT shoulder harness. The harness is adjustable, and you can see it in the pictures. It is of the ladder-type, which means that you can move it up and down after undoing the velcro tab.
So the harness can be attached to any of the available specific positions. This implies that the pack can be used by several individuals, family members and couples.
The hip belt is with a rather massive padding, with Vapel mesh airflow and high-density foam. The back panel is with molded foam and airflow channels, and the lumbar area is also generously padded.
---
Here is a video about this pack, a bit long, but you might want to have a look:
---
Specifications
Weight: 5.8 lb (2.63 kg).
Volume: 75 liters (4580 cubic inches).
Size: 34 x 14.25 x 10.25 in (86 x 36 x 26 cm).
ERGO-FIT shoulder harness, with adjustable load-lifters.
Molded foam back panel with Airflow channels.
Waist belt with Vapel mesh Airflow and high-density foam padding.
Top loading main compartment with gusseted drawstring closure and adjustable top lid.
Extra front panel loading.
Bottom sleeping bag compartment with divider; size 9.25 x 14 x 11 in (23 x 36 x 28 cm).
Dual contoured aluminum frame bars.
Rain cover stored in a bottom pocket.
Dual side compression straps.
Dual bottom compression straps.
Webbing daisy chain on both sides for extra gear storage.
Internal hydration reservoir sleeve and dual exit ports for the tube.
Adjustable sternum strap.
Dual side mesh pockets for water bottles.
Dual large zippered side pockets.
Limited lifetime guarantee.
Colors: 3, see the pictures.
---
Pros & Cons
This is my short summary:
 Pros
 Cons

Great price.
Great design.
Rain cover.
Large side zippered pockets.
With its 2.63 kg this pack looks heavy, but see how it compares with some other top models from other brands, all described in this site: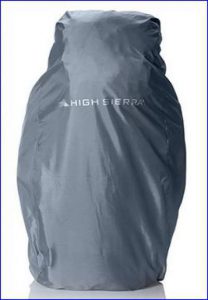 These all are true expedition packs, top class in this size range. I give their current prices in the brackets. You might want to compare this with $92 price tag which you have with the High Sierra Classic 2 Series Appalachian 75 pack.
As you realize, it is about 3 times less expensive. But there are reasons for the high prices of those packs mentioned above. You can realize this if you follow the links.
I do not have formal objections to this pack, it really has all that you need. But I wish to stress it is not a match to the top brands in this industry.
It is disappointing to see that there are no hip belt pockets on such a massive structure, quite a waste of space I would say.
On Amazon, the average rating for this pack is really excellent, 4.5/5, based on more than 140 reviews. No doubt many customers have been very happy with this pack, but there are complaints as well.
This pack is supposed to carry heavy loads, therefore test it thoroughly at home, with a full load before any serious tour. Pay special attention to the following:
Check all zippers, use them many times.
Check all stitching that are subject to much stress, with a full load of course.

Check how the chest strap works, move it up and down a few times, pull a bit to see if it stays in place.
---
Differences between the two models
You will hardly notice differences, but here are a few:
The High Sierra Appalachian 75 is presently available in one green color only, see the picture below.
It has a shoulder strap pocket (visible in the picture); not available in the Amazon model.
It is heavier than the Amazon model; its weight is 6.54 lb (2.97 kg).
The external dimensions of both models are the same.
---
Conclusion
To conclude this High Sierra Appalachian 75 backpack review, this pack looks great and the same holds for its price tag. It has been around for many years now so there must be reasons for its popularity. The adjustable harness makes it useful for family members who can use it interchangeably, and due to this same feature, this is a pack suitable for growing youth. The integrated rain cover adds a lot of value as well.
I see it as a great pack for beginners, for occasional outdoor tours, and for travel as well, but not for much more than that. Do not expect this pack to last 13 years intact as my own main mountaineering pack Deuter Futura.
However, if you have a tight budget and do not wish to spend much, and yet still want to have a branded pack, this is a tool for you. But as I said above, inspect it thoroughly when you receive it, and test it with maximum load.
Note that there are other packs from the same brand described in this site, please see this Titan 55 pack and Long Trail 90 pack.

I hope this text has been useful. Please share it with others. Thank you and have a nice day.
---