---
If you are looking for a functional and lightweight pack for overnight and weekend backpacking and hiking tours, this Gregory Cairn 58 review is for you. With 58 liters (3400+ cubic inches) of volume and less than 1.7 kg of weight, this pack is an appropriate tool for such adventures.
---
Key benefits
Rain cover.
Good load transfer properties.
Great access features and organization.
The price.
---
Where to buy
The best place regarding the price and shipping conditions is usually Amazon.com.
---
Gregory Cairn 58 backpack – description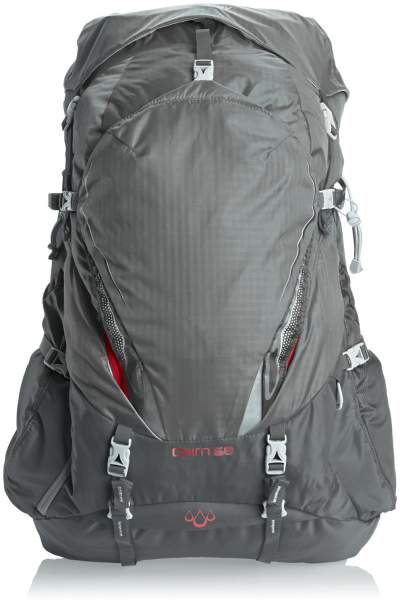 Gregory's Cairn series includes packs of 48, 58, and 68 liters. So this is a series of mid-size packs, and the model presented here is in the middle.
This is a lightweight tool which comes in three different sizes in spite of its nominal 58-liters number, so in fact you have 56, 58, and 60 liters packs. See more in specifications below. This offers you various lengths for the torso and the waist circumference, and all three sizes are in the range 1.67 to 1.79 kilograms.
This pack comes with rather structured sections for various types of equipment. So you have 3 storage systems:
The main compartment where you store the heaviest gear close to your body's gravity center, and those that you will need only in the camp.
The front face with a large storage system inside for items you will need while you are on the trail.
The third is on-the-go zone, a set of pockets around the pack for items you normally use when you are walking.
You will be able to see all this in the video below. So this pack offers a load-hauling capability combined with some really great features. The entrance to the section 1, the main compartment, is through the top collar under the lid with a separate compression strap which is on the top of the collar. This is one big compartment for your larger pieces of equipment, including the bag, your cooking gear, and all other stuff needed in the camp.
But you also have a long zipper on one side of the pack, which makes the side entrance to the main compartment.
The hydration sleeve is again something unusual but not unique, it is outside of the main compartment, right behind the back panel. In fact, many packs of Osprey have the same feature.

On the sides of the pack, you have dual compression straps. The lower straps are with inside-out feature. This means that you can pass them through the side pockets if you want just to cinch the pack, or over the pockets in case you want to fix things stored in the pockets.
On the bottom section, you have rather unusual two sets of dual compression straps so you can attach separate items here, like a sleeping pad plus tent poles, or extra boots, etc.
Completely on the bottom, you have a separate zippered pocket with an integrated rain cover. So indeed, this is an extra bonus with this pack. Just to mention, it is colored matched with the pack.
---
---
The suspension system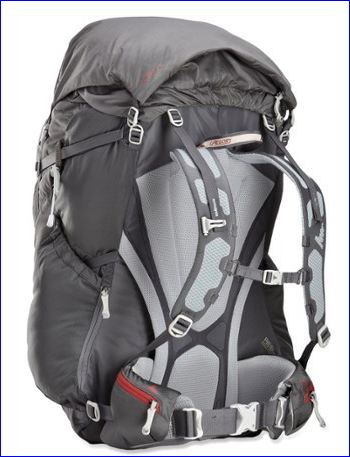 This is a women-specific design, and this is reflected in the suspension system which implies the following features introduced to fit women's body:
Better padding.
More contoured and conical hip belt fins and shoulder harness.
Less space between the shoulder straps on the harness.
More narrow back panel.
Here you have what they call Response LT suspension. This includes an upside-down wishbone-type wire frame which narrows down and anchors to the hip belt transferring the weight there. In addition to this, there is also an anti-barreling stay which adds to the frame rigidity. This is accompanied by a nicely padded pre-curved and pivoting hip belt which follows the body movement on any terrain.
Throughout the harness, you have moisture-wicking materials used, and air channels in the back panel and waist belt are there to enhance ventilation.
There are multiple attachment points and clips on the shoulder straps, including those for the water hose. The sternum strap is movable and removable. You can put it only on several predefined lash points, visible in the picture below, so this is different from most of the packs on the market where the sternum strap can simply slide up and down and be set at any position you want. So I am not sure that I like this design in the Cairn series. There is no reason why you might want to remove the sternum strap, it has a clear purpose on a pack.
---
---
The pockets
As usual for Gregory, you have nice size dual zippered hip belt pockets. One unusual feature is a small zippered stash pocket with the entrance at the side pocket, you can see it in the picture above right.
Of course, you have two of these side pockets, one on each side of the pack, they are rather deep and with an angled entrance so that you can easily get your water bottle.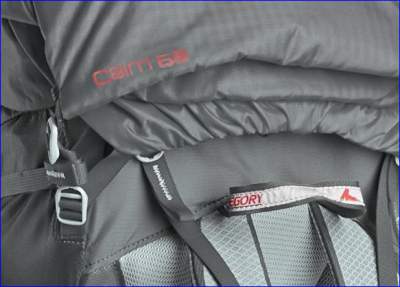 You have something quite unique on the top of the pack, a top pocket with a roll closure, highly water resistant and with a waterproof zipper.
Its entrance is behind your neck. When you want to close it, you zip it and then roll it twice and it stays in this position. You can see it in the picture right.
On the underside of this lid, you have yet another small zippered pocket.
Now, on the front, you have something rather unusual: a large shove-it pocket secured with two side straps with buckles, plus one buckle with a strap on the top of it. When you open it, you will see yet another zippered panel inside, with a long U-shaped opening. This is a huge storage space, and you have a mesh pocket inside, plus yet another zippered pocket on the internal side of the lid of this U-opening. This all is what I mentioned as the front storage with the number 2 above.
---
All the features of this pack you can see in this video by Gregory, which presents both Cairn and Contour series. Have a look:
---
Pros & Cons
Here is my list:
 Pros
 Cons

A lot of organization features.
Good materials.
Rain cover.
Two access points to the main compartment.
Several unique features, like the top roll pocket.

Not adjustable harness.
No side zippered pockets.
No separate bottom compartment.
The harness is indeed fixed but you have three slightly different sizes to choose in the moment of purchase.
I love to have a separate bottom compartment, but this is just the matter of preference. This pack has a good organization in general.
---
Specifications
Purpose: backpacking, hiking, mountaineering.
Three sizes:
– XS: 3417 cu in (56 l).
– S: 3539 cu in (58 l).
– M: 3661 cu in (60 l).
Weight:
– XS: 3 lb 11 oz (1.67 kg).
– S: 3 lb 13 oz (1.73 kg).
– M: 3 lb 15 oz (1.79 kg).
Torso fit:
– XS: 14 – 16 in (36 – 41 cm).
– S: 16 – 18 in (41 – 46 cm).
– M: 18 – 20 in (46 – 51 cm).
Waist/hips fit:
– XS: 22 – 28 in (56 – 71 cm).
– S: 22 – 28 in (56 – 71 cm).
– M: 28 – 34 in (71 – 86 cm).
Maximum carry weight: 45 lb (20.4 kg).
Access to the main compartment: top & side.
Hydration compatible; external hydration sleeve.
Warranty: lifetime.
Internal frame.
Adjustable sternum strap.
Integrated rain cover.
Materials:
– Body: 420 D and 100 D Robic fabrics with UTS coating.
– Frame: aluminum perimeter hoop + single cross stay.
Response LT suspension.
Wishbone wire frame.
Shoulder straps with mono-filament mesh, perforated EVA foam and 2 layers of air-mesh on the top and bottom.
3 sections packing system.
Patented hip belt alignment system.
Dual waist belt pockets.
Large front pocket system.
Dual oversized side pockets for water bottles.
Contoured back panel with breathable spacer mesh and ventilated air channels.
Water resistant top pocket with waterproof zipper and sealed seams.
Side stash security pocket.
Quick draw closure on main access.
Stash pocket on underside of the top lid.
Colors: 3, see the pictures.
---
Comparison with competitors
Here you can compare the Cairn 58 pack with some other models available on the market. Only some basic features are given, to see more please follow the links:
Gregory
Cairn 58*

Deuter Futura
Vario 60
Osprey
Exos 58
 Weight (kg)

1.73

2.3
1.19
 Volume (l)

58

60+10
58
 Rain cover

yes

yes
no
 Bottom compartment

no

yes
no
 Adjustable torso

no

yes
no
 Zippered side pockets

no

yes
no
 Hip belt pockets

yes

yes
yes
 Metal internal frame

yes

yes
yes
 My rate

8.9/10

9.3/10
8.8/10
*Data for S size.
The other 3 models given in the table are top in this industry, with great features indeed, but see the current prices (at the moment of writing the text): $153, 229, 220,  respectively. So I am sure no comments are needed here.
---
Summary
To conclude this Gregory Cairn 58 review, this pack comes with a lot of features, some quite unique, and with a nice organization. Not less important, see the price tag, this is a true bargain. This is a very good Gregory's pack for women, I love it and I can fully recommend it.
Note that there exists also a corresponding series for men under the name Contour, with very similar features and with the packs of 50, 60, and 70 liters.

I hope this text has been useful to you. It will be great to hear from you, if you have any question please use the comment box below.
Have a nice day.
---