---
This Gregory Baltoro 95 Pro review is about an enormous backpack designed for heavy loads of up to 75 lb (34 kg). This is a tool for expeditions and long tours, built from strong and robust materials and to last for many years.
---
Key features & benefits
Rain cover included.
Removable SideKick daypack doubles as a reservoir sleeve.
Three sizes to choose.
Three access points.
Enormous capacity.
Girth-hitched compression bottom MultiStraps double as a hip belt for the day pack.

---
About Gregory Baltoro backpacks in general
The Baltoro series is the best of all what Gregory has built so far. The "ordinary" Baltoro series includes backpacks of 65 liters, 75 liters, and 85 liters. But there is more to this, the Baltoro 75 GZ with an integrated Goal Zero solar panel.
With this Gregory Baltoro Pro 95 you have yet another, in fact, the biggest pack added to this impressive series.
---
What makes this pack Pro
There are several reasons:
This is the biggest pack in the Baltoro series, suitable for very long expeditions.
It is with the biggest capacity of all, 75 lb (34 kg). Compare this with 60 lb (27.2 kg) which you have in the second largest Baltoro 85.
A more durable fabric is used in some parts of the pack.
Steel elements are added to the 7075 aluminum frame, as compared with aluminum only in other packs from this series. The frame tubes are thicker as well.
---
Who is it for
This is a load hauling tool, specially designed for expeditions and long tours in general. This is also an expensive tool, so perhaps not for beginners and for those who would use it only occasionally; in such a case this might be an overkill but if you can afford it, you will have one of the best backpacks on the market.
You have seen the capacity mentioned above, so if you need a tool that has it all and is able to carry a heavy load, you will hardly find something better.
---
Overview
The smaller packs from the Gregory Baltoro series have received multiple awards in the past. So this largest pack in the series includes everything that you have in the smaller packs (except for some details in the hip belt, see below), plus all extras mentioned above.
Access points
You have them three here. The first is the classic top access under the lid, with the usual draw-cord closures and a compression strap.
Yet another large opening is on the front. This is a huge U-shaped zipper that runs around the front zippered pocket. So this opens the pack like a suitcase.
You also have a bottom compartment with the usual zippered entrance, and inside you have a divider which is removable, so this allows for yet another entrance to the main compartment.
But the reality is that this bottom entrance is not needed when you have such a large front access, and the divider is not a true zippered divider; it is just a platform with toggles which separates the upper and lower compartments. So I am not impressed with it.
SideKick pack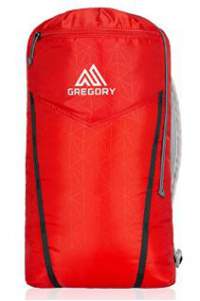 The SideKick ultra-light and removable daypack is a bonus with this pack. It doubles as the reservoir sleeve. So you can remove it and use as a summit pack. It has two long daisy chains on the front, and a zippered pocket on the top, see the picture.
As mentioned above, the girth-hitched compression bottom straps on the big pack double as a hip belt for this day pack.
This daypack is surely a useful bonus, but its design is rather basic and this holds for all Gregory's daypacks of this type; you have them also in their Paragon series as well as in the Maven series.
Suspension system
The Baltoro Pro 95 comes with an upgraded Response Pro suspension system. So here you have a fixed hip belt and not pivoting like in the smaller Baltoro packs.
The aluminum tubing is with a larger 7 mm diameter tubular frame and it is again wishbone-shape, you also have a spring steel anti-barreling stay, and a full-length internal frame sheet.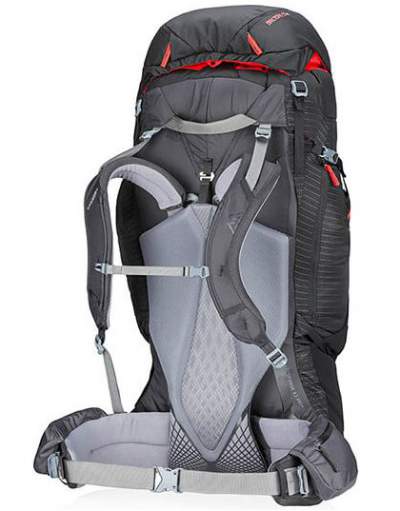 There is no standard torso adjustment here, you have three sizes (S, M, and L) to choose, this is the same in all packs in this series. But note that each size has two possible positions for the shoulder straps.
There is also a lumbar adjustment, which is in the form of a small 10 mm thick pad that can be positioned where you want it between the frame and the lumbar padding.
The shoulder straps and hip belt are contoured and pre-curved and generously padded with a multi-density EVA foam. The lumbar zone is with silicone layers for extra grip and stability. This is a construction designed to work properly under very heavy loads.
Durable materials
As mentioned above, very durable and the abrasion resistant fabric is used. So you have a combination of 210D CryptoRip nylon, 420D nylon, 630D HT Tri-Layer nylon on the bottom, and 135D polyester reinforcements. This is together with a strong aluminum-steel combined frame and a rigid HDPE plate.
Pockets
The lid is with a Double Barrel design, so you have two pockets there, one above another and their entrances are from the left and right sides, see the picture. Underneath the lid, you have yet another zippered pocket for valuables. Note that the lid is removable.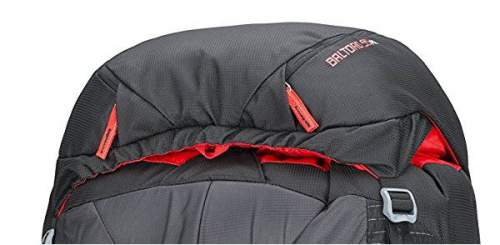 On the front you will notice a long vertical zipper in the middle; so this is the entrance in the large front pocket. Inside of it, you have yet another zippered pocket where the rain cover is stored.
Dual zippered pockets are on the hip belt and one of them is waterproof and with a YKK AquaGuard zipper, and you also have dual upper bellows zippered pockets on the side, a feature which I particularly love to see. The side mesh pockets are also available, but the pocket on the right is a SideWinder stowable bottle holster designed for an easy access of the bottle.
So in total, you have 11 pockets here (the rain cover pocket included).
Straps and attachment points
The dual straps that run across the bottom compartment are removable. In fact, they are designed to be used as a hip belt with the integrated daypack.
On the bottom, you have dual loops for trekking poles and axes, and they are paired with dual bungee cords higher on the pack.
Dual compression straps are on both sides, and they are with buckles to open them when you want to open the lengthy front zipper.
I miss to see some more attachment elements on such a big surface, but perhaps this is because the pack is so huge that you can store everything inside.
---
Pros & Cons
My summary reads as follows:
 

Good

 

Less good

Daypack bonus.
Rain cover bonus.
Great suspension and harness.
Very durable fabric.
Great organization.
Bottom compartment.
Great capacity.

Heavy.
Expensive.
No full torso adjustment.
The price
The current Amazon price of this pack is $380, so definitely an expensive tool. But note that this is a Prime item on Amazon. See how I rate it:
My rating breakdown of the Gregory Baltoro 95 Pro
Volume to weight ratio -

9.1/10

Features and bonuses -

9.9/10

Comfort -

9.4/10

Price -

7.8/10
Summary
The relatively low mean value is affected by the price and the weight. I give maximum for its features.
---
Specifications
Best use: expeditions, backpacking, mountaineering, travel.
Three sizes: small (S), medium (M), large (L).
Weight:
– S: 6 lb 8 oz (2.95 kg).
– M: 6 lb 11 oz (3.03 kg).
– L: 7 lb 1 oz (3.2 kg).
Volume:
– S: 5614 cu in (92 l).
– M: 5797 cu in (95 l).
– L: 5980 cu in (98 l).
Maximum carry weight: 75 lb (34 kg).
Torso fit:
– S: 16 – 18 in (41 – 46 cm).
– M: 18 – 20 in (46 – 51 cm).
– L: 20 – 22 in (51 – 56 cm).
Size:
– S: 31.5 x 16 x 14 in (80 x 41 x 36 cm).
– M: 33.5 x 16 x 14 in (85 x 41 x 36 cm).
– L: 35.5 x 16 x 14 in (90 x 41 x 36 cm).
Warranty: limited lifetime.
Fabric:
– Body: 420D nylon, 210D nylon.
– Base: 630D high-density nylon, 135D polyester.
– Lining: 135D polyester.
Frame: aluminum and steel.
No torso adjustment.
Hydration compatible.
Rain cover included.
SideKick ultra-light daypack included.
LumbarTune removable 10 mm pad.
WeatherShield PU-coated hip belt pocket with YKK AquaGuard zipper.
Dual side zippered bellows pockets.
Dual zippered lid pockets.
SideWinder hide-away bottle holster.
630D HT Nylon Tri-Layer abrasion resistant bottom.
Dual loops for poles and axes.
Dual bungee locks for poles' attachment.
---
Comparison with competitors
See how Gregory Baltoro 95 Pro compares with some other packs from the same size range.
Gregory
Baltoro 95 Pro

Osprey
Xenith 88
Kelty Red
Cloud 90

Weight (kg)
3.03

*

2.48
2.5
Volume (l)

95

88
90
Lower compartment

yes

yes
yes
Hydration compatible
yes

yes
yes
Rain cover

yes

no
no
Internal frame

yes

yes
yes
Harness adjustable

no

yes
yes
Removable daypack
yes

yes
yes
Zippered side pockets

yes

no
yes
*This is for the M size.
As you realize, the Baltoro 95 Pro is a heavy tool, but it can carry more than the other two packs. But see the prices of the three packs which are, respectively, $380, 292, 203. So if you are a beginner and need a big pack for occasional use, you will know what to choose.
---
Still undecided?
If after reading this Gregory Baltoro 95 Pro review you are still undecided, please visit my page with packs above 56 liters. Many top-class tools are presented there.
But bear in mind that you will hardly find a more suitable pack for extremely heavy loads, at least in the category of internal frame packs. So yes, I warmly recommend this Baltoro pack if you can afford it.
If you would rather have some external frame pack, I would suggest checking this Alps OutdoorZ pack and the Kelty Tioga pack.

Thank you for reading. Please get in touch with me if you have any question or comment, there is a comment box below. Have a nice day.


---