Many peaks  in the Alps can be climbed in one day and if you have your base somewhere in a nearby valley, you will not have to look for yet another once when you set-off for your daily tour. The same is with hiking tours that may include walks from valley to valley usually over some breath-taking mountain pass. But in mountains weather conditions can change quickly. If you start in a sunny morning in a mid-summer day,  you can still be caught in rain or even a snow storm and, I can guarantee you, sooner or latter this will happen.
So be prepared and ready for this in terms of your equipment and mental strength. Do not panic ever. Remember, no rain lasts forever. If nothing else around, and rain starts, try to find a boulder under which you could stop off until it is over. There are also shepherd and  cattle-breeder, or hunting cabins everywhere throughout the Alps where you may stop for one hour or so. In any case, it is good to know in advance where proper shelters may be found, so inspect your maps and do some homework before you go.
---
In some cases peaks are more remote or high so you will have to stay somewhere. Backpacking is an option, but for this you will have to carry a lot of stuff like a reliable waterproof tent,  a warm sleeping bag, etc. In this case I suggest you to have equipment which you have already tested. I know from my own bad experience how things can go wrong if you have wrong equipment.
Here is one example from my first attempt to climb Weissmies (4023 m) in Switzerland. I was carrying a lot of stuff, my rucksack was probably 30 kilograms because I wanted to stay a few days high up on the mountain, and was carrying what I thought was needed. I parked the car in Saas Almagell and climbed to above 2900 m below Zwischbergen pass, and decided to put my tent there. It was brand new, I just bought it in Belgium. The weather was fine during the day, the summit was visible and I was delighted with prospects for tomorrow. But during the night there was a storm, first rain and then snow, and it was terribly cold. Just after 15 minutes to my horror I realized  that my 'waterproof' tent was leaking. The water was collecting on the flow surface (which indeed appeared to be waterproof, contrary to the roof), and my sleeping bag was becoming wet. I realized I had a problem.
So I decided to leave, left most of things there and  descended to Almageller hut (see the picture of the hut below in the text, taken during my second attempt). It was well after 11 pm when I got there, the light in the hut was still on, and there was only a woman guardian cleaning the tables. She was surprised to see me at that hour, asked where I was coming from and I explained. Luckily there was a place available in the mattress room, so I spent the rest of the night there. In the morning I collected my wet stuff and drove back to Belgium. My plans for that season were ruined. I realized I did not have equipment to stay as planned.
---
But there are plenty of places where you can stay at very high altitudes even if you do not carry stuff for camping.  Here is a short introduction.
---
Shelters for climbers, mountaineers, and hikers
Generally, in the Alps you will find the following places to stay at high altitudes when you are on climbing or hiking:
Mountains huts.
Alpinistic bivouacs.
So called Alp hotels.
Bivouacs owned by some groups.
Mountain huts are objects that are either privately owned or belonging to some alpine or climbing federation or clubs. They may be open all the year round, or in some particular seasons. Most of them however have so called winter room that is always open and where you may find shelter if this is necessary even if the hut is officially closed. Such winter rooms usually have beds and blankets, and sometimes even stoves.
Mountain huts are typically at high altitudes and at locations from where you may plan your further climbs and routes.  Access routes to the huts are, as a rule, well marked and safe. However, in some specific cases you will see descriptions on maps or on the Internet that alpinistic equipment is needed for the access routs, sometimes marked as blue line on maps. Note that there are huts in Switzerland with guardians only on weekends, but they remain open on week days.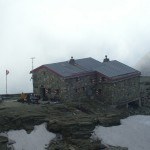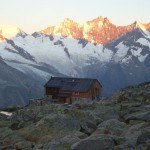 In huts with guardians,  practically always you shall have chance to order food and drink. Food is usually simple but  good. As for water, well, you will have to pay and it is not cheap, do not count on  having  it for free. High-altitude huts sometimes do not have running water, or they have it when it is not frozen during the daylight like in the case of Cabane Tracuit (3256 m) on the route to Bishorn,  and in this case toilets are outside. You will sleep in bunk-beds or  in mattress rooms with many, sometimes 30-40 people in the same room. In Austria, Italy and Slovenia there are huts with private rooms with 2-4 beds, in Switzerland I do not remember any of that kind.
In Swiss huts accommodation is around 40 CHF, see for example Almageller hut  and Cabane des Dix.   If you plan meals then for a half-board (breakfast and dinner) you may count the same amount. In Italy, taking for example Rifugio Berni near Gavia pass, you will pay 20 E for place in a mattress  room, or 52 E for two meals included. In Austria, in Similaun hut you will pay 30 E.
Alpinistic bivouacs are shelters with much less comfort. There are no guardians, sometimes they are without stove, but with blankets like the bivouac in the picture below on the route to the summit of Jof di Montasio (Montaz).
In Italian Alps those are typically red metal containers and you will see them everywhere at high altitudes, and on more demanding routes. They are always open. You are supposed to take your food and water with you. In some cases they may have some cooking equipment and a gas- or wood-stove. But I would advise to carry your own gas burner stove with you. Information about many of bivouacs will be available within this site.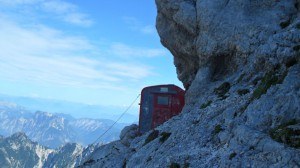 Bivouacs owned by groups and societies. These are objects without guardians and although built by some relatively small group of people, they are in some  situations open for everybody. One nice example is in the picture below; a shelter close to the summit of Monte Breva in the Livigno area. It contains gas-stove and wood-stove,  basic equipment for cooking, as well as running water outside. There is a lot of space for sleeping  but no blankets.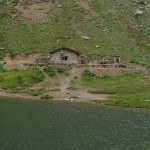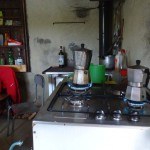 Within this site, on a separate page, I shall provide information about many shelters and huts in the Alps. Please leave you comments below about this post or about your experience with huts and shelters in mountains.
---