---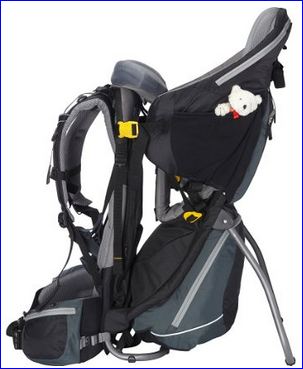 Deuter Kid Comfort III baby child backpack carrier is the latest one in the series. This product comes from the producer who was the first in the world to start manufacturing child backpack carriers.
The pack has a lot of storage capacity. You will be able to carry the total weight of up to 22 kilograms. Safety features are appropriate for such a world-class producer.
---
Best place to buy
The best place regarding the price and shipping conditions is usually Amazon.com.

---
Description
Kid Comfort 3 has an aluminum base which is accompanied with a kickstand leg with audible 'click' sound when locked. It is designed so that the carrier stays stable when you put it on the ground, see the picture here.
The padding on the back is generous and comfortable with air flow channels. The same good padding is on the shoulder straps and the pivoting hip belt.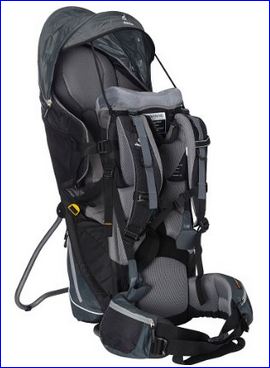 The harness can be adjusted to fit any torso in the range 15-21 inches and this is done very easily. The sternum strap is adjustable and sliding.
The child entry is from the side. The child's seat is greatly padded, accompanied with an x-shaped harness, and with additional chin padding on the pack in front of the child's face and chest. This chin padding can be detached for washing.
Of course, both the harness and the seat are height-adjustable to accommodate children of different age.
There exist adjustable and flexible stirrups (foot rests) on both sides.
Stretch pockets are on both sides. 2 zippered pockets are on the hip belt. There is a large storage compartment ('diaper storage') on the lower front part, and yet another stretch pocket above it secured by a buckle, plus a zippered pocket on top of this stretch pocket.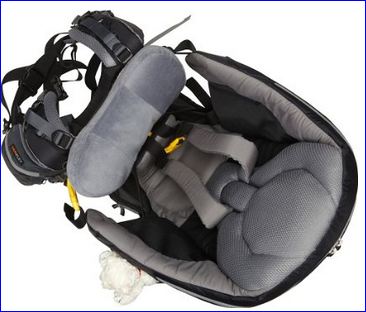 Kid Comfort 3 carrier comes with an integrated Sun-protection roof. It is tucked away when you do not need it, opening and fixing it is really easy.
The pack is foldable for easy transport.
There is no rain cover included in the pack, but it can be ordered separately.
---
Please see this great promotional video of child backpack carriers, by Deuter:
---
Technical specifications and summary of features
Weight: 7 lbs 11 oz (3500 g).
Volume: 1100 cubic inches (18 liters).
Torso fit: 15 – 21 inches.
Waist fit: 24 – 54 inches.
Size (H x W x D): 31 x  17 x 13  inches; 80 x 43 x 34 cm.
Height when folded: 89 cm.
Material: Deuter-Super-Polytex.
---
A bit more about the back system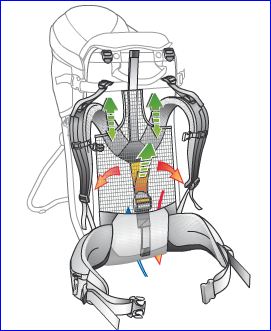 Deuter has developed at least 16 different back system for their backpacks. The one used in Kid Comfort 3 system is so called Deuter Aircomfort Vario System and it has the following features:
Vari Fit System to easily adjust to the user's back length.
Aluminum frame, which transfers the load to the hip area.
Anatomical, pivoting Vari Flex hip wings which follow movements of the user and save energy.
AIRCOMFORT (Kid Comfort AIR) – it creates a space for airflow between child and carrier.
Anatomical shoulder straps with a 3D AirMesh lining; comfortably curved over the shoulders.
The Pull-Forward hip belt adjustment system.  It allows the adjustment even with a full load.
Hip belt inner side has a layer of soft foam with 3D AirMesh lining for heightened comfort while the outer foam is form and anatomical and it transfers the load to the hips.
Height adjustable stabilizer straps which enable positioning of the pack and allow heavy loads to be moved closer to the body.
---
Comparison with competitors
See how this carrier compares with its competitors:
Kelty
Transit 3.0
Osprey
Poco Premium
Deuter
Kid Comfort III
Weight, kg
2.4

3.43

3.5

Volume, l
21

34

18

Harness adjustable
yes
yes

yes

Removable day pack
no
yes

no

Hip belt pockets
yes

yes

1

Rain cover
no

no

yes

Frame
aluminum
aluminum


aluminum

My rate
8.8/10
9.2/10

9.0/10
Kid Comfort III is indeed heavier than others, and it is with the smaller volume. But the materials used in the construction are typical for Deuter, very good and high quality.
---
To summarize, this Deuter Kid Comfort III baby child backpack carrier is a great tool, it has received a lot of complimentary remarks by users. More expensive than some other models, and even heavier, but comfortable and reliable just like any other Deuter product.

Thank you for reading. It will be great to have some comment in the box below.


---