---
Need a great snowsport backpack? This Deuter Freerider Pro 30 review is about one of the best possible examples, a do-it-all daypack to carry skis, snowboard, and snowshoes, all together if needed.
---
Why this pack – Key benefits
Very reliable tool from a company that started in 1898.
Several attachments options to carry skis, snowboard, helmet, and snowshoes.
Dual access to the main compartment.
---
Description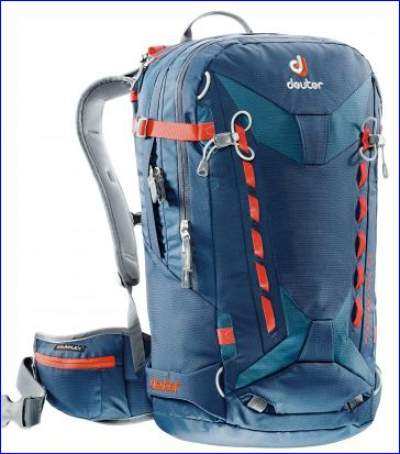 When they constructed this pack, Deuter's designers have had skiers and snowboarders in mind. So you have several options for ski, snowboard, or snowshoe attachment. Some of them you can see in the pictures below.
The pack is cleverly designed, so when fully loaded with stuff on the front, you can access your main compartment by using a very long U-shaped back access zipper. It runs all the way around the perimeter of the pack, and it opens it like a suitcase. To get to it, you will undo two straps with buckles that also play the role of load lifters.
In some pictures you will notice dual horizontal straps on the front; when you do not need them they can be stowed away in separate small pockets. This is why they are not visible in the picture above.
Also on the front you have long dual vertical daisy chains for gear attachment, you can see them as the red stripes.
On the front part, you have the 'normal' zippered entrance to the main compartment, it is protected with a storm flap.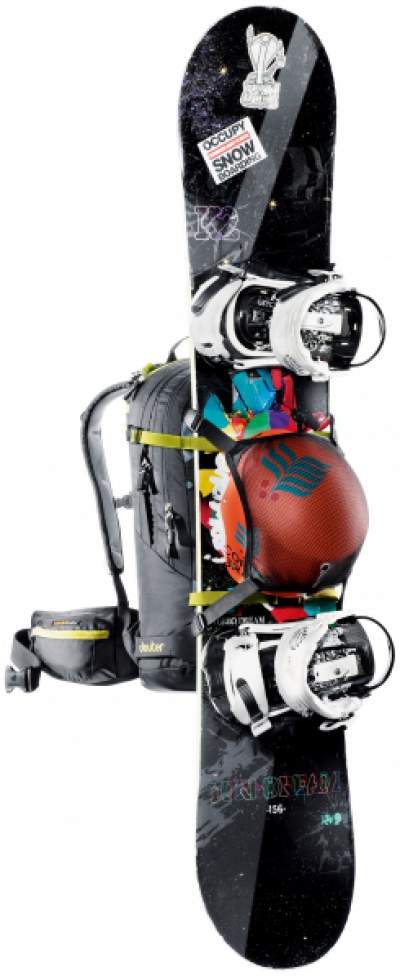 On both sides you have upper compression straps, and below you have very strong attachment loops. So again this is designed to attach skis.
On the bottom, you have dual tool loops that can be stowed away. They are paired with bungee tie-offs higher on the pack.
Several additional attachment loops are on the front. You will use them to attach a helmet, see this in the pictures.
Two extra webbing loops are on the top. A removable helmet sling is included as well, see how it is used in the picture here.
The pack is hydration compatible, with the sleeve inside the main compartment and a single hose port on the back. You can store a 3-liter water bladder inside. The hose can be routed along either of the shoulder straps.
The materials used in the construction of this pack are high quality, so you have Deuter's MacroLite 420 used for the main body. This is a special high density 420 denier polyamide, a durable combination 40% polyester, and 60% nylon. With its very tight weave, it offers very high abrasion resistance. It comes with PU coating for water resistance.
---
The suspension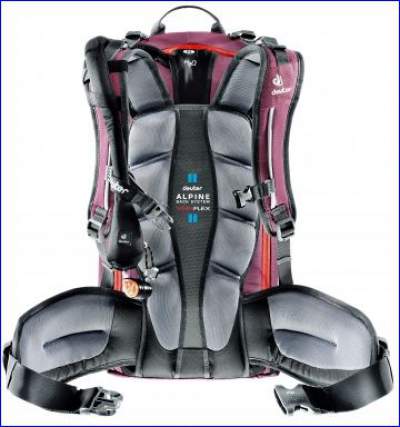 You have Deuter's Alpine Back System here, one of many original designs they have developed in the past decades. It included a central ventilation chimney on the back and two vertical pads on two sides of it, see the picture. Smaller ventilation channels are also directed to the sides of the back.
The pack is with a tensioned peripheral Delrin U-frame, and with a panel. In fact, the panel is removable and you can take it out and sit on it when you need it.
The shoulder straps are well-padded and with a breathable mesh, the same as what you have on the back. The chest strap is adjustable and equipped with an emergency whistle.
The hip belt is anatomic, pre-curved, very well padded for the pack of this size, and with a bi-laminate construction. It is removable and with pivoting Vari Flex hip wings. So they move together with your body. This reduces friction and improves comfort.
The harness is not adjustable, it is designed for torso sizes in the range 16 – 21 inches (41 – 53 cm).
---
Pockets
On the hip belt, you have one zippered pocket, on the other side of it, you have an attachment loop.
One large scratch-free zippered pocket is on the top.  On the front you have a larger zippered front pocket with some organization features inside, see the picture above. It serves as a shovel pocket and its internal design is suitable for this purpose.
---
Previous and new versions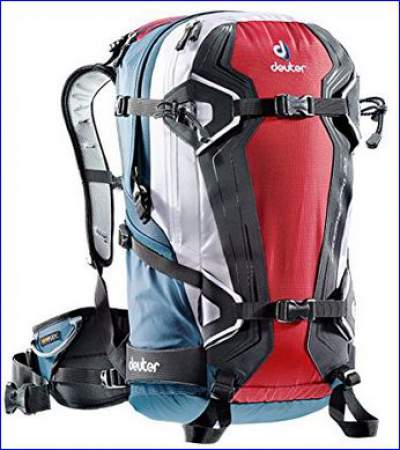 Deuter Freerider PRO 30 has been on the market for many years now. It has been redesigned recently and the version presented here is the 2016-model. Both models are available on Amazon, check the links.

There are some differences, and those include:
There are 2 side straps in the previous version; only one in the new.
The new version is without side stretch mesh pockets.
---
Pros & Cons
My list reads as follows:
 Pros
 Cons

Versatile.
Very reliable and durable construction.
Great organization features.
Double access to the main compartment, but is it really necessary?

Heavy.
Only one hip belt pocket.
When I write versatile above, I mean the pack can really carry all items for your snow adventures, and this includes a helmet and all other items mentioned above. It does not have a rain cover, but in view of its main purpose for snow sports, I guess this is not essential. Besides, the fabric is with PU coating.
The back entrance is a clever and useful solution. But the front entrance zipper is only a few centimeters away and it runs parallel to the back zipper. So I do not really see the purpose of this front zipper. They could have shaved the weight a bit by simply omitting this zipper; as you realize this pack is rather heavy for its size.
The pack has received an incredibly high average rate by Amazon customers, no less than 4.8/5. You can see this in the links give above and below.
---
Specifications
Weight: 3 lbs 13 oz (1720 g).
Volume: 1830 cubic inches (30 liters)
Size (H x W x D): 22 x 13 x 8.7 in (56 x 32 x 22 cm).
Fixed harness.
Torso fit range: 16 – 21 inches (41 – 53 cm).
Material: Deuter-MacroLite 420.
Alpine Back System with Delrin U-frame.
Removable, pivoting Vari Flex hip wings.
Pull-Forward adjustment for a compact fit.
SL model specifically adapted to the female anatomy.
Spacious front safety gear pocket with a compartment for the shovel.
Reinforced compression straps for mounting snowboard/snowshoes and skis on the front.
Side ski attachment.
Full back panel opening for easy, quick access to the entire content.
All straps stowable.
Stowable ice axe and pole attachment.
Reinforced base.
Load adjustment straps.
Compression straps.
Removable helmet holder.
Two daisy chains.
Removable sitting mat.
Hydration system compatible.
---
Conclusion
So to conclude this
Deuter Freerider Pro 30 review
, what you have here is a typical Deuter's product: sturdy, robust and reliable, built to last and to serve you for many years. It is hard to find any true objection to this pack. I can fully recommend it. You might want to know that there exists also a model specifically designed for women,
Deuter Women's Freerider Pro 28 SL Backpack
.
Note that Deuter has some other packs which are constructed for a similar purpose. I warmly recommend you to see this Deuter Cruise 28, and this Osprey Kresta 30 for women. If you need something smaller for winter sports, please see this Osprey Kresta 20 pack designed for women and Osprey Kamber 22 for men. See also my list with 8 great snow packs.
I hope this text gas been useful to you. If so please share it with others. In the case of questions or comments please use the comment box below.
Thank you for reading and have a nice day.