---
Deuter Fox 40 backpack is for short persons and for growing youth and kids. This is a reliable and durable backpack that will last for many years, and its design is such that it will grow with your kid. This means that you have full harness adjustability, among the best of its kind, easy and simple to use. The internal frame is one of the best Deuter has produced so far, with X-shaped stays and U-shaped peripheral wire, reliable and top quality.

---
Description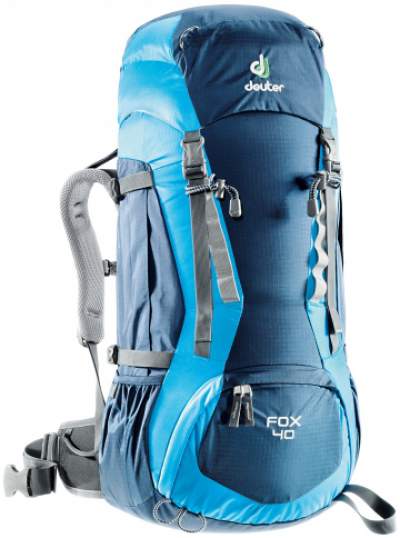 Writing about Deuter packs is always a great pleasure for me. This is because of the quality of these packs. We have them at home, one of them is my main backpack which I have been using in the past 13 years. It will last forever.
Fox 40 is not different in that sense, here again, you have Deuter at its best. So you know when you buy it for your kid, this is something you can rely on.  Wherever you look you see the quality, just see the materials used her, no less than 600 denier polyester.
This pack has tons of great features, and you can see them in the pictures. Here I describe some of them.
On both sides, you have properly sized pockets for water bottles or anything else, nicely done. The pockets are with elastic and equipped additionally with compression straps that run above them (see the picture), to fix things in the pockets or to cinch down the volume of the pack.
Higher up you have another pair of pockets, so one on each side. They are zippered and huge, and designed cleverly so that, when full, they almost take no space from the main compartment. I have the same pockets in my own Deuter pack. Here too you have compression straps. Your kid will use them to cinch the pack down in case of less stuff in the pack
The lid: This is a top-loading pack, so you have a lid with a zippered pocket on the top of it. There is yet another internal zippered pocket underneath the lid, it is visible in the picture below.
There are attachment loops on the lid as well. On the inner side of the lid, you have the usual SOS label with some emergency instructions.
Inside, you have a hydration sleeve with a loop to attach the water bladder. It accepts water bladder up to 3 liters. You can see it in one of the pictures below.
There is another access point on the bottom. So this is the classic U-shaped zippered entrance for a sleeping bag. There is no divider inside, this is practically the only minor difference as compared with the usual big Deuter's packs.
On the bottom of the pack, you have a pair of bungee attachment cords on the left, and a tool loop on the right. They are properly matched with bungee loops higher up on the front of the pack. So the bungee cords can be used to attach walking poles, and the loop for the ice axe if the kid is going to use it.
Very useful daisy chains are on the both side on the front of the pack. This is something everybody love to have, and kids in particular. You can see them in the picture below.
You will also notice nicely designed gear loops on the hip belt, shown in the picture below. They are very similar to what you normally have on a climbing harness. You can be sure kids will find the proper purpose for it.
On the chest strap there is an emergency whistle, see the picture.
---
---
Suspension – Alpine back system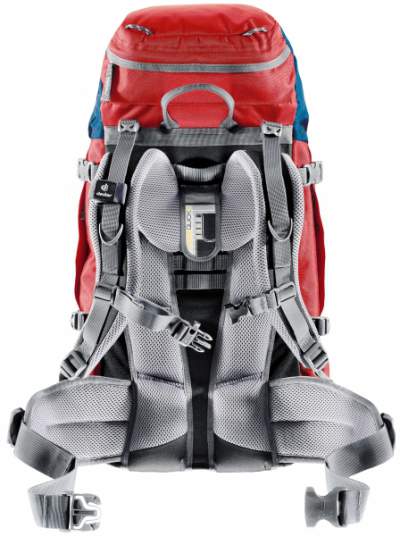 What you have here is one of Deuter's 20odd systems, so-called Alpine back system. So you have the following:
♦ An X-frame system with profiled aluminum stays. They are introduced to give exceptional flexibility and weight carrying ability.
♦ You also have a flexible and tensioned Delrin U-shaped frame wire which provides stability and load transfer to the hip belt.
It is made flexible to follow movements of kids, and you know well that those can be very complex and unexpected. A pack for kids must have something like this.
♦ On the back of the pack you have two padded foam stripes, you can see them in the picture here above. They are designed to provide stability and comfort. They are accompanied by airflow and ventilation channels, see the picture below. The whole structure is covered with a very breathable and very durable 3D AirMesh.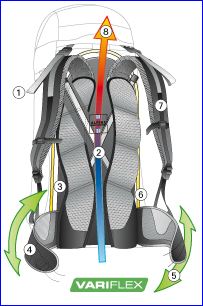 ♦ The part of the system are load adjusting straps on the shoulder straps, you see them in the picture above. The kid will use them to fine-tune the load according to the terrain. When they are loose this will give more ventilation, when they are tight the pack is closer to the body and this gives more stability and control, good for moving on rough terrains.
♦ Contoured, comfortable 3D Air-Mesh lined shoulder straps.
♦ As I said before, the carrying system grows with the kid. This implies a Vari-Quick system which can be easily adapted to the torso length of a growing kid. It allows changes in the range 11 – 18 inches.
♦ The hip belt is anatomic, it includes bi-laminate foam for comfort and flexibility. It is removable for eventual weight reduction. The hip fins are with pivoting Vari Flex feature to follow kid's body movements. This implies that the load can be evenly distributed to the hips, and this all gives freedom of movement and reduces fatigue.
The hip belt adjustment is easy, pull-forward type. Here is a short video (2:01) about Fox 40 pack, please have a look:
---
Pros & cons
Wherever you look in this pack you see great quality and design. Nevertheless, it lacks some features which you should be aware of. See my summary:
  Cons
  Pros

No rain cover.
No compression straps for sleeping pad or bag.
Relatively thin hip belt padding.
No hip belt pockets.

Very good price.
Top-quality materials.
Durable.
Reliable.
Great suspension system.
Very strong internal frame.
Adjustability for growing youth.
Many useful features.
My guess is that the designers wanted to reduce weight as much as possible, and that is why they did not add a rain cover and compression straps. But see the technical specifications below, the pack has PU coating.
The existing side compression straps can be used to attach a sleeping pad, or it can be added under the lid because the lid can move up and down considerably. Another option is to fix it to the attachment loops on the lid, or even better option is to use daisy chains for that purpose.
I also find hip belt padding not so great. But my list with pros is still longer, this is a great pack in every sense.
Amazon customers have rated Fox 40 pack with a very respectable 4.7/5 average rate.
---
Summary of technical specifications & features
Weight: 2 lb 14 oz (1300 g).
Volume: 2440 (+240 sp) cubic inches,  40 (+4 sp) liters.
Size (H x W x D): 27 x 12 x 9.4  inches (68 x 30 x 24 cm).
Torso fit: 11 – 18 inches (28 – 46 cm).
Waste fit: 24 – 36 inches (61 – 91 cm).
Best use: hiking, backpacking, scouting, school excursions, summer camps, travel.
Material: Polyester 75% and Nylon 25;
– Deuter-Super-Polytex:

600 denier polyester thread and with a thick PU coating. Robust and lightweight.


– Deuter-Ballistic: high density woven polyamide 420 denier, with high strength and lightweight.
– PU coating. Shiny finish.
Alpine back system.
Vari-Quick back adjustment.
Ice axe and hiking pole attachment.
Side bellows pockets.
Side compression straps.
2 daisy chains.
Zippered top lid pocket.
Zippered pocket under the lid.
Attachment loops on the lid.
Bottom access to the main compartment.
Pull-forward hip belt adjustment.
Gear loops on the hip belt.
Chest strap with emergency whistle.
Shoulder straps with soft edges.
Hydration compatible.
Colors: 3 combinations.
---
Comparison with packs for youth from other brands
Here I give a table with several top brands' packs for youth, in case you need a pack of a different volume:
Gregory
Wander 50
Deuter
Fox 40
Mountainsmith
Youth Pursuit
Weight (kg)
1.47

1.3

1.6
Volume (l)
50

40

50
Loading
top, panel


top

top
Rain cover
yes

no

no
Lower
compartment
no

yes

yes
Zippered
side pockets
no

2

2
Harness
adjustable
yes

yes

yes
Belt pockets
2

no

1
---
Conclusion
To conclude this review of Deuter Fox 40 backpack, I love this pack and I can fully recommend it for many outdoor activities and for travel. I have been using Deuter packs for many years, and from my first-hand experience, I know they are the top quality and reliable tools. This is a tool that will not fail. I find it ideal for a weekend hiking and backpacking tours.
This pack has so many nice features that everybody loves to have, kids in particular. The price is a bargain for such a top-quality pack. If you still think it is expensive, think twice, this pack is designed to last.
Thank you for reading, do leave me some comment below. Have a nice day.