---
Deuter Fox 30 pack for kids is a specific design with all details and features adapted from the full-size trekking packs. So this is a pack for any kind of outdoor activities for juniors. Its torso adjustment Vari-Quick system grows with the kid and it can be adapted to perfectly fit the back length.
---
Many features that kids love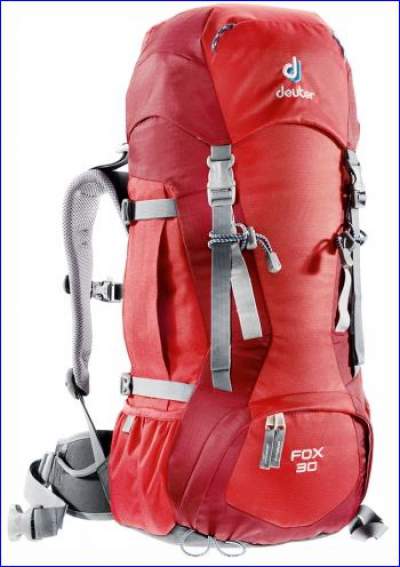 Deuter Fox 30 is a traditional top loading pack, so there is the usual lid on the top, and the collar with a cord and toggle beneath it.
Yet another access to the pack is through the bottom entrance, with a long U-shaped zipper. This is what you normally call sleeping bag compartment, and indeed this is the purpose of the bottom entrance, but there is no divider inside.
On both sides of the pack, there are 2 compression straps, visible in the picture, to cinch the pack down in the case of a small load inside, and to secure the stuff in general. They are easy to handle and kids will love to use them.
On the front, there are two daisy chains and two bungee cords. The latter are to be used together with the attachment loop and two bungee loops on the bottom, to carry trekking poles or perhaps even an ice axe if the kid is going to use it. All this is visible in the picture.
There are attachment points on the lid, and on the hip belt, you have nicely designed attachment loops as well.
Pockets
On both sides, you have bellows pockets, quite big and zippered. This is a good design seen in many Deuter's packs. When they are full they take very little space from the main compartment. My own pack has the same.
Below the zippered pocket you have a stretchy water bottle pocket, again one on each side.
There is one zippered pocket on the top of the lid, and one additional zippered pocket is underneath the lid. There are no pockets on the hip belt.
Suspension system – Deuter's masterpiece of engineering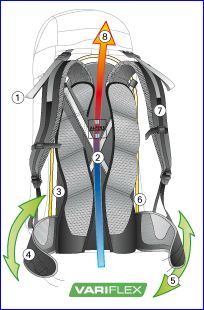 The suspension system used in this pack is one of many (around twenty) which Deuter has developed for their normal size packs.
Here you have what they call the Alpine Back System. It is based on an X-shaped set of aluminum stays that provide exceptional flexibility and weight carrying ability (number 2 in the picture). In addition to this, you have a flexible and tensioned Delrin U-shaped frame (number 3 in the picture). It is designed to provide stability and effective load transfer to the hip belt structure.
Shoulder straps (7) are contoured, well-padded and very comfortable, covered by a 3D air-mesh. As usual, you have load lifter straps (1) on the shoulder straps. The sternum strap is adjustable and with a safety whistle on it.
The padding on the back is wonderful, contoured and profiled, and with airflow channels which run both vertically and horizontally.
You have the Vari-Quick torso adjustment which is simple, based on velcro tabs.  It is so nicely designed that you can modify it in the range from 10 to 17 inches (25 -43 cm) in total. It is therefore obvious that the pack grows with the kid as you can see in its description.
So this is a design that will allow the kid to use it for many years, and it is so durable that kid after kid can use it. We have Deuter packs, my main pack is Deuter and it is shown in various photos fork my climbs within this site. I have been using it since 2003, no signs of wear and tear at all.
The hip belt (4) is anatomic and with bi-laminate foam, designed for comfort and flexibility. Pivoting hip fins (5) are designed to follow body movements. They can be removed for weight reduction.
---
---
Pros & cons
Fox 30 is a great pack, yet I still have a few objections, here is my list:
  Cons
  Pros

No rain cover.
No compression straps on the bottom.
No hip belt pockets.

Top-quality.
Very good price.
Very durable.
Reliable.
Excellent suspension system.
Adjustability for growing youth.
Many useful features and attachment points.
---
Here is a very short video (0:51) about Deuter Fox 30 pack, have a look:
---
Summary of technical specifications & features
Weight: 1200 g.
Volume: 30 (+4 sp) liters.
Size (H x W x D): 60 x 23 x 22 cm.
Material:
– Deuter-Super-Polytex.
– Deuter-Ballistic.
Alpine back system.
Vari-Quick back adjustment.
Ice axe and hiking pole attachment.
Side bellows pockets.
Side compression straps.
Daisy chain.
Lid pocket.
Valuables pocket under the lid.
Attachment loops on the lid.
Additional access to the main compartment via the bottom opening.
Quick and easy Pull-Forward adjustment.
Gear loops on the hip belt.
Chest strap with emergency whistle.
Shoulder straps with soft edges.
Hydration compatible.
---
A few words about Deuter
Deuter is a world-leading brand for backpacks.
The company started in 1898 in Germany.
Used to equip all major German expeditions.
Equipment for Nanga Parbat expedition in 1934.
Equipped Heckmeir in his 1938 climb of Eiger north face.
Equipped Hermann Buhl in his Nanga Parbat climbing in 1953. Perlon packs used.
Introduced nylon packs in 1968.
Deuter Aircomfort system introduced in 1984.
Peter Habeler worked as a technical adviser 1988-1991.
Introduced the first bike packs in 1999.
Futura series introduced in 2001 (my own pack).
SL – women fit introduced in 2006.
---
Conclusion
To conclude this text about Deuter Fox 30 pack for kids, when you buy one this is not only about one single item. With the pack, you buy an experience in manufacturing these tools which is more than one century long. I own a Futura backpack and I know well how reliable Deuter's products are. This particular pack for kids is not an exception, it has all features which you normally have in any other Deuter's full-size pack.
Its current price (only $99 in the moment of writing this text) is really a bargain, I was pleasantly surprised when I saw it. This is a top brand and their packs come at a price. In any case, I can fully recommend this pack.
Note that there are several bigger packs for youth presented in this site, Deuter Fox 40, Mountainsmith 50, and Kelty Red Cloud 65.
Thank you for reading, If you find the text useful, please share it with others. I shall be happy to hear from you, there is a comment box below. Have a nice day.