---
Deuter Aircontact 75 10 backpacking pack is a reliable tool for backpackers, thru-hikers, and mountaineers. Built from very durable and sturdy materials, this pack has several great and unique features.
---
Why you would want Deuter Aircontact 75 pack
This is a pack built from enormously durable and abrasion-resistant materials.
A lot of new technology is applied here to achieve a perfect suspension which allows for comfort and stability on any terrain. See more about this below.
You have independently pivoting shoulder straps and independently pivoting hip fins.
This is Deuter at its best, a reliable and top quality pack.
---
Description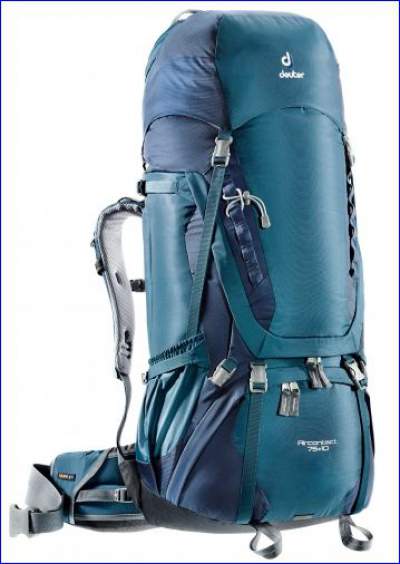 Deuter Aircontact 75 + 10 is made of very durable materials, all that you have here is made to last for many years. You have Deuter's Duratex polyamide, which is extremely abrasion and tear-resistant, and it is used for the bottom panel. It has a thread of 1000 den and a thick PU coating on the inside.
The rest is Deuter Micro Rip 6.6, a 330 den Nylon blended fabric. It also offers durability and tear resistance.
The pack comes with an integrated rain cover stored in a zippered pocket on the bottom. This adds a lot of value to this already great pack.
On the bottom you have dual compression straps that run over the bottom compartment, you can see them in the picture. Here you can attach sleeping pads, tent, tent poles, or sleeping bag.
Dual tool loops are on the bottom, and higher up you have the corresponding bungee tie-offs, to attach ice axe(s) or walking poles. You can see this in the picture above.
Two daisy chains run vertically on both sides of the front face. The usual dual compression straps are on both sides of the pack. You will notice that the previous version of this pack has 3 compression straps on the side. On the lid, you have 4 attachment rings.
The pack is hydration compatible, with a bladder sleeve inside the main compartment.
---
Pockets
You have one hip belt pocket, cannot understand why not two, this always puzzles me with many Deuter's models.
On the sides of the pack you have stretch mesh pockets, and higher up you have dual zippered below pockets. One zippered map pocket is on the front of the pack.
The lid contains two pockets: one is with the zippered entrance from outside, and one zippered pocket on the underside.
---
Suspension system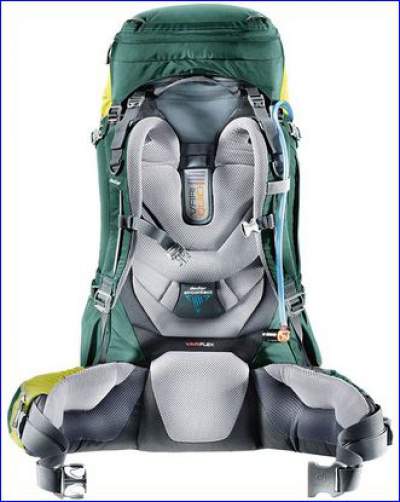 Deuter is world-famous for its numerous suspension systems. In this pack, you have what they call Aircontact system, which you can partly see in the picture. It includes the following features:
♦ The suspension is based on an anatomic profiled aluminum X-frame which offers a balance of torsional rigidity and flexibility, and it is designed to follow your body movements.
♦ The harness is fully adjustable, and you have the so-called Vari-Quick system applied here. It is a ladder-lock type, see the pictures below, designed for an easy adjustment to any back length.
Shoulder straps are contoured and with 3D Air mesh lining. The shoulder straps are with a pivoting design, so they move independently and follow your body movement. This is introduced here to reduce hot spots.
♦ You have Deuter's Vari Flex System. This implies that hip fins are also fully mobile. They are able to follow any body movements. This is very important when you are passing some dangerous parts on your route, with such a construction you will more easily keep your balance because the pack follows your body.
♦ The hip fins are anatomically shaped. They are with a multi-layer structure. Inside you have a soft foam with a 3D AirMesh lining. Outside you have a more rigid foam,  anatomic and designed to transfer the load to the hips. On the fins you also have side compression straps, they are added to regulate the load and to increase stability.
All models in the Aircontact series are designed for heavy loads. So to maximize stability and load transfer, an additional synthetic reinforcement is introduced between the two foam layers. This is new as compared to Deuter's ACT series.
♦ A quite unique feature is also that shoulder stabilizer straps have two different fixing points.  This is unique for models in Aircontact series above 50 + 10 SL. This means you have an optimal positioning of the backpack, which depends on the torso length setting. With this, you can nicely optimize the load adjustor strap angle; as you surely know this is very important for the stability of the pack.
♦ The padding is breathable, and with special ventilating hollow chamber foam. This means that your movements produce a pump effect, which forces the circulation of air through the breathable cushions. You also have extra air channel ventilation between the back cushions.
---
Access points
There are several access points here:
♦ You have top-loading access under the floating lid which is secured with two buckles on the front. Under the lid, you have a spindrift collar with a compression strap and buckle, and the usual cord with a toggle. The collar is quite high when you expand it up, and it gives those extra 10 liters of volume which you see in the name of the pack.
♦ Large U-shaped front access zippered entrance, see the picture above. It is secured with two buckles on the lower front section, and when you undo them, you can unzip the pack and lift its whole front face.
♦ You also have a bottom entrance through the sleeping bag compartment. Here too you have a large zipper. Inside, you have a zippered divider between the two compartments.
All these features you can see in this video, have a look:
---
Pros & cons
  Cons
   Pros

Heavy.
Only one hip belt pocket. Why?

Very durable and reliable.
Great adjustability options.
2 direct access points to the main compartment.
Bottom compartment.
Rain cover.
Great suspension system.
Independent pivoting system in the two shoulder straps.
Independent pivoting system in the two hip fins.
As you realize, the pack is quite heavy, but just see what it offers. All here is done to last, you have strong and durable materials used, you have an extra front entrance with a long zipper which adds a feature but it also adds weight. You have zippered divider between the two compartments, this makes them truly separate compartments, but this zipper also adds weight.
---
Specifications
Weight: 6 lbs 13 oz (3100 g).
Volume: 4580 + 610 cub in (75 + 10 liters).
Size (H x W x D): 35 x 13 x 11 in (88 x 32 x 28 cm).
Material: Deuter-Duratex; 330 D Micro Rip Pro 6.6.
Pivoting Vari Flex hip fins.
Adjustable multi-chamber aluminum X-frame.
Side compression straps.
Zipped pocket on the hip belt.
Height adjustable lid.
Two lid pockets.
Two front daisy chains.
4 top attachment rings.
Dual side attachment loops.
Bottom zippered compartment.
Zippered divider.
Lower compartment compression straps.
Double-layered base.
Rain cover.
Hydration system compatible.
Zippered side pockets.
Side stretch pockets.
---
Comparison with other brands
In this table, I show Deuter Aircontact 75 10 pack, side by side with several others top brands in the same size range.
Gregory
Baltoro 75

Osprey
Ariel 75
Deuter
Aircontact 75
Weight (kg)
2.42

2.21

3.1

Volume (l)
75

72

75 + 10

Lower compartment
yes

yes

yes

Hydration compatible
yes

yes


yes

Rain cover
yes

no

yes

Internal frame
yes

yes

yes

Harness adjustable
yes

yes

yes

Removable day pack
yes

yes

My rate
9.1/10

9.0/10

8.9/10
In the moment of writing this text, the prices of the four packs are respectively, $254, 309, 289. So, in spite of great features, I cannot rank it higher because of the price and the weight.
---
Conclusion
To conclude this text about Deuter Aircontact 75 10 backpacking pack, this is a tool without weak points, built of the best possible materials, reliable and durable. But such a sturdy construction makes it heavier than its competitors. Nevertheless, this is a top class backpacking tool and I can fully recommend it to anybody. Too big for you? See the smaller version 65 + 10.
I hope this text has been useful to you. It will be great to have some comment from you, there is a comment box below. Thank you for reading and have a nice day.
---