---
Craghoppers Bear Grylls Men Mountain Jacket is waterproof, breathable, windproof and reliable ripstop polyamide jacket with plenty of features needed for any outdoor activity. 
Best price and place to buy
The best place regarding the price and shipping conditions is usually Amazon.com.
---
Why I love Bear Grylls mountain jacket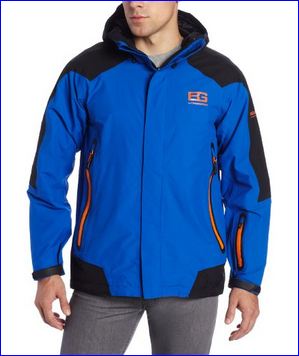 I have seen a number of times some outdoorsmen expressing a negative opinion about Bear Grylls (you will hear this even in the video below). I would not go into reasons for this because this text is just about the jacket, and it is really a good one. It ticks so many boxes for me.
So have a look regardless of what you might think about the name. Observe also that this is the product of Craghoppers company, not of the Bear Grills himself. The company was established in 1965 in the UK, and they have built their reputation as a reliable one.
Here are a few of my own major reasons for having a very high opinion about this jacket:
This jacket has so many useful pockets. Most top class jackets have one or two, rarely 3, see some in the table below. In Bear Grylls jacket you have 5 in total.
The jacket has a mesh liner inside. This is not insulation of course, but it adds a bit to it, more importantly, it adds to the comfort. I wear such jackets (have several of them) most of the time with only a polo shirt underneath.Have you ever tried this with jackets without a liner or a mesh, or without a half-layer over the membrane? If yes then you know how unpleasant this can be. So a mesh liner is a must for me.
The jacket has adjustability everywhere, on the hem, on the cuffs, on the hood.
Yes, it is heavy, but see below why this is so. For example, it has extra reinforcement on shoulders. This is to protect from abrasion by the backpack straps, and these extra layers are with structure and rubbery, so that straps are nicely kept in place. This is a durable material in general.
Here is a useful video about this jacket:
---
Description
The jacket is with AquaDry membrane, completely waterproof and breathable.
On shoulders, you have added reinforcement patches. This is both great to see and very useful to protect the jacket from abrasion.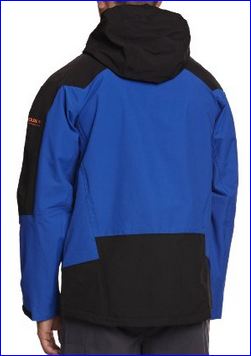 The front zipper is double-type, and with double storm flaps and with a series of velcro tabs all the way along the flaps. I would prefer to have snap buttons instead of velcro tabs.  I also do not like the double flap system, a bit annoying, but there are good reasons for having such a system in place, so this is not a cons for me.
The collar and the hood are one single unit. There is fleece material added as a chin guard, pleasant and useful. You have adjustment cords on both sides of the face, equipped with toggles and with pull system, so you can adjust it in two ways.
The cord actually runs to the back where you have yet another toggle for adjustment. It is designed nicely and it is under a storm flap. On the front you have a very useful half-rigid brim, nicely designed, it prevents the rain going directly to your face.
The cuffs are with velcro tabs, no elastic, I would not mind having both in place.
Inside, the membrane is protected by a free-hanging mesh liner, my favorite feature.
Pockets
On the sides, you have really large hand pockets with very long zippers, and with fleece lining inside. This is both comfortable and good for insulation, you will need it. The zippers are made so long in order that you still have access to pockets above the hip belt of the backpack.
Inside, you have a zippered chest pocket on one side, and there is yet another one without the zipper on the other (left) side.
There is also an external pocket on the sleeve, zippered and waterproof. What to use it for? Well, use the imagination.
---
Pros and cons
 Cons
 Pros

No pit zips.
No chest pocket(s).
Limited choice of colors.
No roll away hood.

Many pockets.
Mesh liner.
Very good price for the value.
Waterproof.
Breathable.
Durable.
Reinforced layers.
So, in spite of 5 pockets already there, I am complaining about the lack of chest pocket(s). Perhaps I am wrong, but this would make the jacket almost perfect.
---
Summary of technical specifications & features
Weight: 690 g.
Fabric: 100% polyamide ripstop with DWR finish.
AquaDry membrane.
Waterproof.
Breathable.
All seams sealed.
Mesh liner.
Branded rubber cuff adjustment.
Fleece chin guard.
Front zip with double storm flap and velcro tabs.
5 pockets: 2 waterproof zipped hand pockets, 1 waterproof zipped pocket on the left sleeve, 1 inner zipped pocket, 1 inner open pocket.
Shoulder reinforcement grip to prevent rucksack straps from sliding.
Classic fit.
Attached hood with 3 adjustment points.
Inner drawcord hem system.
---
Conclusion
It is probably obvious that I love this Craghoppers Bear Grylls Men Mountain Jacket, but I believe I have presented enough facts which justify my enthusiasm for this rain jacket. No one presented so far in this site has such a great combination of features and price.
I wish to stress that this is not an insulated jacket, so if you plan to wear it in all seasons you will add some fleece or vest underneath. The design of this jacket is such that it allows for such extra layers. This is a great tool and I warmly recommend it for outdoor activities, but also for around-town use and for daily life in general.

Thank you for reading. If you find the text useful, please share it with others. Have a nice day.
Here is the promotion video with Bear Grylls himself, but the jacket shown here is either some previous model or a wrong one (there is no chest pocket in the jacket presently available on the market):