---
Columbia Steens Mountain Fleece Jacket for men has been on the marker for 12 years already. All these years it has been very popular, and presently, it occupies the position two on Amazon in two of its fleece departments. Read here more about reasons for its popularity.
Key benefits
Great price. In the range $30 – 60 at the moment of writing this text.
Incredible choice of color combinations, more than 30.
A piece of garment that has stood the test of the time.
Best place to buy
The best place regarding the price and shipping conditions is usually Amazon.com.
Description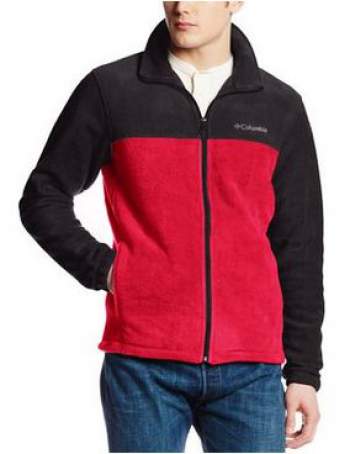 So how to describe this jacket? First about the material, well, it is fleece, of course, what else, but you should know that this is the medium to heavy type. There is no clear indication about the type even on the Columbia site, but on Amazon, you will see the number 250.
I would say this is the most common type of fleece, and the only heavier is 300-type. You can read more about this terminology and classification with respect to the weight in my separate text about fleece in general.
The fleece you have here is very soft, cozy, and pleasant inside and outside, the external surface is what they call a low-pile fleece.
In the specifications you will see the letters MTR, the meaning is Maximum Thermal Retention. But do not be confused with this, and do not expect anything spectacular, this is a rather generic term used for this type of fabric. Nevertheless, this is a super-plush and pleasant fabric, and a piece of garment you will love to use in various situations, at home or outdoor.
At the Columbia site, they describe the jacket as Modern Classic fit. This implies that it allows for under-layers so you can use it as your main jacket, with extra layers underneath it. In the same time, it may be used as a reasonably good layer under a rain shell jacket, though I would not expect too much, this fleece jacket is rather thick and in such a combination breathability may be an issue. But this all depends on the type of activity and the breathability of the external shell jacket.
So in general, this is a regular and relaxed fit, and the jacket is most suitable for a casual use, at home, at work, or in a camp. Such a conclusion follows both from the weight and overall features. You will not use it in very dynamic activities.
On the cuffs, you have elastic material, always useful to have as it adds to the warmth of the jacket. The hem is adjustable, the jacket is with a full zip and with a standing collar.
Pockets: The usual but large zippered hand pockets are on the side, with nice pulls designed so that you can use them even with gloves. In some descriptions, you will read about two internal pockets, but strictly speaking, these are not true pockets: it is just that the pockets are sewn to the jacket, creating some drop-in space behind where, indeed, you can put a few things.
Users' experience
This jacket is among the most popular items on Amazon in the department Fleece, presently on the position 2, with close to 5000 customers' reviews, and with an impressive average rate 4.4/5. The fit as expected statistics is also rather good, with 79% of customers being satisfied with the fit.
You will be equally impressed when you see colors, more than 30 different color combinations are available on Amazon at the moment of writing this text. The sizes presently available are X, S, M, XL, XXL, 3XL.
Here is my summary of pros and cons:
 Pros
 Cons

Very warm.
Very comfortable.
Great price.
Great colors.

Heavy.
Not so breathable.
No velcro on the cuffs.
The weight depends on the size of course, but it is in the range of 450 grams, so this is not the lightest option on the market for sure.
Specifications & summary of features
100% MTR polyester.
Full zipper closure.
2 zippered hand pockets.
2 internal pockets without zippers; these are just flaps created by the external pockets' design.
Machine wash.
Modern classic cut with standing collar.
Adjustable hem.
Embroidered logo at the chest.
Limited lifetime warranty.
Summary
So to conclude this text about Columbia Steens Mountain Fleece Jacket for men, assuming that you are going to use it for what it is designed, it is hard to make true objections to jacket. Remember that this is definitely not a technical jacket, yet this is a great tool for casual use, and with an equally great price tag. If you need something technical, see this Outdoor Research Ferrosi Hoody.
Note, there exists a corresponding fleece version for women as well, enormously popular, and known under the name Benton Springs. You can see it described in my separate text with 8 great Columbia fleece jackets for women.

Thank you for reading. I shall be happy to hear from you so please use the comment box below. Have a nice day.


---