---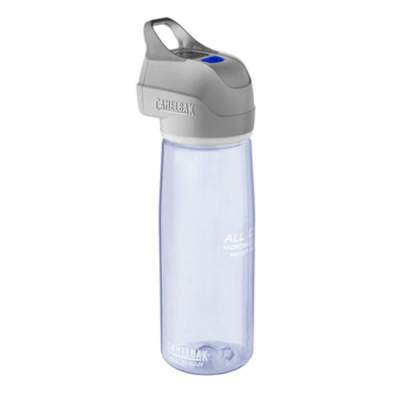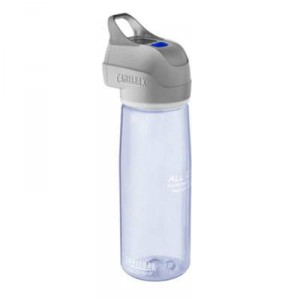 CamelBak UV water purifier presented in the text is known as CamelBak All Clear Microbiological UV Water Purifier.
This is a compact and elegant 0.75-liter system suitable for any outdoor activity, and for international travel. In other words, this is a simple water bottle but with its own integrated UV light source.
Where to buy
The best place regarding the price and shipping conditions is usually Amazon.com.
---
About All Clear bottle design
This is a system with a rechargeable battery placed in the lid. When you add water and start the process with a simple press on the button, you will have a drinkable water in 60 seconds. There is a digital readout on a small LCD screen on the lid, which will tell you when you are ready to go. The same screen indicates the status of your battery as well. So you can repeat the process very quickly and fill your backpack water bladder in no time.
To work properly, the water should not contain solids. Otherwise, you should use some pre-filter. An obvious, inexpensive and ultra-lightweight is definitely Sawyer MINI, which I would warmly recommend. But Camelbak also sells separately its own pre-filter.
The battery used here is very efficient and with a long lifetime. It is supposed to last up to 10000 cycles. The charge in the battery is enough to repeat the process up to 80 times. So clearly you will be independent even in very extended outdoor tours of a few weeks or so.
Recharging is through an included USB cable which you will use through your computer, MP3, solar charger, and similar devices.
---
All Clear bottle functionality
According to the declaration by the manufacturer, this is the same technology used in hospitals and municipal facilities. It is expected to neutralize at least 99.99% of viruses, bacteria, and protozoa.
Note that you actually do not see the UV light used here. The lamp light which you see is only an indication for you to know that the UV process is on.
How does UV light work?
This is different from chemical systems that kill microbes. Yes, you drink some dead bodies in this case.
This is different also from filters that remove them physically. Frankly speaking, this sounds like the best option for me.
In fact, the UV light breaks down DNA of microorganisms, making them harmless, and it inhibits their ability to reproduce.
What I want to stress is that these microorganisms are actually not killed. In fact, you consume them alive. So it is up to you if you are comfortable with this or not. I must say, I am not.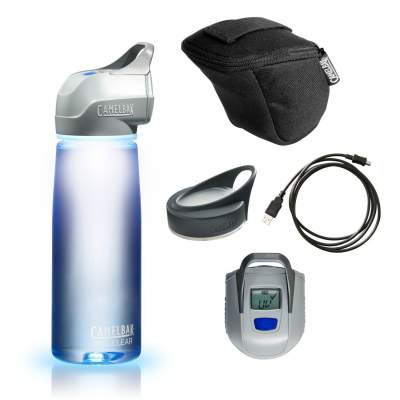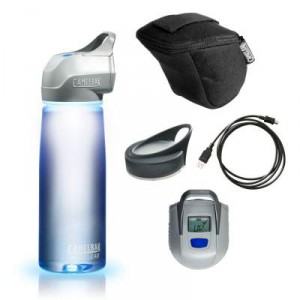 From what I have learned, it would be very bad to let the purified water exposed to sunlight long enough. This because microbes would repair themselves and you would be drinking contaminated water.
So this is a system very similar to some other models described within this site, like SteriPEN water purifiers. I suggest having a look and compare the prices and specifications.
What is in the kit?
The kit includes the items shown in the picture on the right. It includes:
Hard plastic bottle with the lid/cap which contains the UV system.
Carrying case with CamelBak Classic Cap for use after the water has been purified. When you use it, you put the UV cap inside.
USB cable.
Manual.
Here is a promotion video by CamelBak, please have a look:
---
Pros:
Easy to use.
Simple and portable.
Fast.
---
Cons:
See the price.
It does not improve the taste of water.
I do not like the feeling that I drink living microorganisms. How about you?
Pre-filter not included. For me not too bad because I would not use what they offer in any case. I would use something with the smallest possible pores, like 0.1 microns from Sawyer MINI, or 0.2 or 0.3 in some other models.
Similar objection as to Katadyn MyBottle water filter. In the outdoor environment, the bottle becomes contaminated from outside and the same is with the rim you put on your lips. You have to find a way around it. I would not drink directly from such a contaminated bottle.
The problem remains even if you pour the water into your backpack water bladder; it goes over the contaminated rim.
---
Summary
So to conclude this text about CamelBak UV water purifier, this is a nice tool with many good features, practical and easy to use, but see also the Cons above.

I would definitely love to use it with some high-quality pre-filter, like Sawyer MINI. One extra reason is that such filters have a carbon core to remove odors and improve the taste of water. Though for my tours in the Alps this is not essential at all.

For updates about the price and user reviews please follow the Amazon link above. Thank you for reading and do leave me some comment in the box below. Have a nice day.