---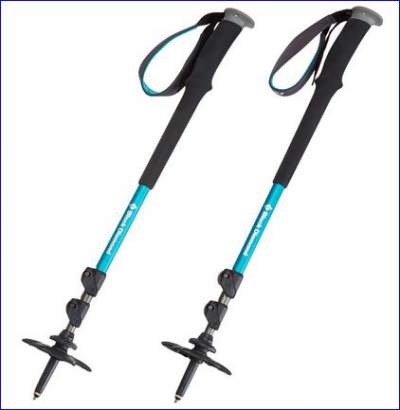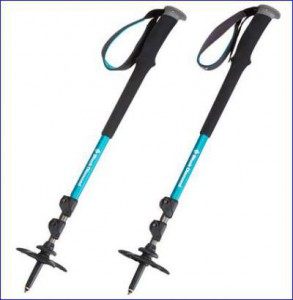 Black Diamond Trail trekking poles for women are 3-section aluminum telescoping poles with external lever-type Black Diamond FlickLocks, and with a lot of adjustability. They are most suitable for hikers and backpackers.
General description
The length adjustability for these poles is really easy and simple. They come with 2 locks, but this is a feature that I am not completely happy with. Locks are typically weak points with any poles, so it is better to have less than more. One lock is usually completely enough to adjust the length on one section only, once the other sections are fixed. Note that locks also add to the weight of poles.
On the other hand, there is always some overlapping of sections when they are locked. This is normal to have a stable pole. So, more sections imply more extra weight from this overlapping. What I am trying to say is that in my view, a 2-section pole is typically a better choice.
The packed size difference between 3-section and 2-section telescopic poles is never so big. The story is completely different of course if one speaks about collapsible and foldable poles, which you may see in this text about FLZ poles. However, I wish to stress that you can completely disassemble these poles. In such a way, the resulting set is quite short and you can easily set it into your suitcase or backpack. 
These Trail poles are made of durable aluminum, which is always a great material. The grips are a dual-density foam, again a nice feature. Foam performs great in every conditions, and it has a pleasant touch even in a cold environment. In warm conditions, it wicks away sweat from your hands.
Some people may prefer cork, which is indeed a great natural material and I love it. But I have read several reports about cork grip used in some other models. Namely, cork tends to crumble after some time and it is generally less durable, you may see one such example in this text.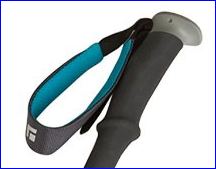 With Trail trekking poles you have a quite long extended foam grip. This is a nice feature that you will be using on switchbacks and on uneven terrain, and I would not consider poles without it. So the bigger part of the upper section of the pole is, in fact, a foam grip as you can realize from the pictures.
This all comes together with a nicely padded and adjustable strap with a material aimed at wicking the sweat from your wrists.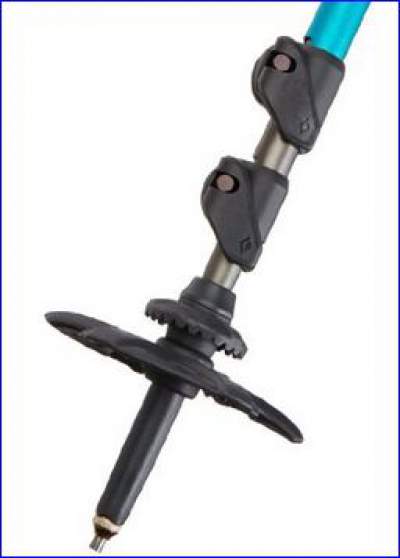 The lower part of the pole is with Black Diamond Flex Tech replaceable pole-tip. It is designed to break in case the pole is stuck in cracks, protecting in that way the damage of the upper sections of the pole. This is surely an unpleasant thing to happen to you, but it is less expensive to replace the tip than the section(s) of the pole.
The pole-tip ends with a replaceable carbide tip, which you can unscrew and put a rubber tip instead (not included in the package). This may be suitable for hard and smooth surfaces like concrete and rock. Tip protector is also sold separately.
The other end of the pole-tip has a low-profile trekking basket, which is also removable, and you can put a snow basket instead (included in the package). This is what makes these poles 4-season type.
Users' experience
I must say I have not seen any complaints about these poles even after searching several lists of user's reviews at different sites.
Here are just a few thoughts of users:
"They are light in weight, have a nice swing and are comfortable to grip. My favorite feature is the locking mechanism. It is super simple and easy to adjust while providing a strong stable pole."

"Don't be confused by the gender naming. They are blue .. not pink." – My addition: what he wants to say is, if you are short male you should buy these poles to save weight, simply because they are shorter. See some more on this:
"

Although these are labeled as women's poles, they're really just a slightly shorter, lighter version of the regular Trail pole.

" Remember what I said above about the overlapping of sections which adds the weight; so if you are a short male and you use longer poles (for men) you will have more unnecessary overlapping.
Technical specifications & summary of features
Weight: 15.6 oz/pair (442 g).
Packed length: 23 in (58 cm).
Maximum usable length: 49 in (124.5 cm).
Minimum usable length: 39.4 in (100 cm).
Materials:
– aluminum shafts
– foam grip.
Use: hiking, backpacking.
Double FlickLocks.
3 sections.
Length adjustability.
Non-slip foam upper shaft.
Women design.
Dual-density grip top.
Padded strap.
4-season poles.
Summary
So to conclude this review of Black Diamond Trail trekking poles for women, these are great poles, nicely built and made of very good materials. There is a lot of adjustability, and some critical parts of the pole are replaceable. The poles are received exceptionally good comments from users, see it in the picture right, and this is the only thing that matters.
Check at REI
You might want also to check these new Mountainsmith Halite 7075 WSD Trekking Poles. Thank you for reading and do leave me some comments in the box below.