---
In this Black Diamond Half Dome climbing helmet review, I present the Black Diamond's most durable tool. This is a hard-shell ABS plastic helmet, suitable for all possible sorts of climbing. It is available in 8 different colors for 2 sizes.
Why using climbing helmets, and what type to choose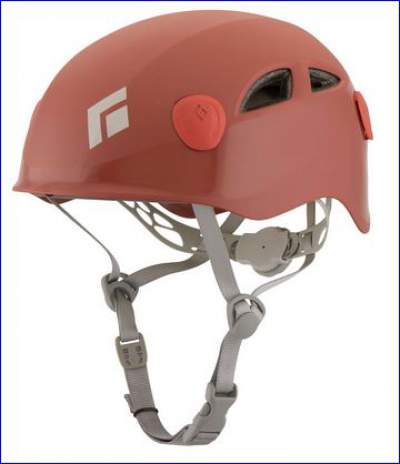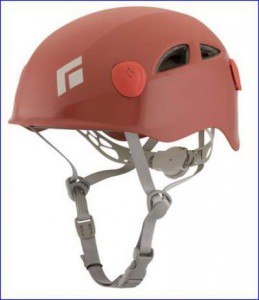 Helmets are used for protection from falling rocks, from sudden rock-roofs that may appear above you in your climb,  or in case you fall yourself. Some of them look like helmets for bicycle riders, very open and a bit bulky. Those are made of foam and covered by a hard polycarbonate layer.
These foam helmets are ultra-lightweight and it is usually claimed that you will not notice them when they are on your head. This is true, but you will notice it if/when it cracks in your backpack if pressed accidentally from outside. So these are definitely far less durable than hard-shell helmets.
I have a hard-shell helmet and I would not exchange it for a foam helmet.  It is very durable and reliable, regardless of how I handle it. More about this type you will see from the example below.
How to choose a climbing helmet
The best advice is: try it. If you feel comfortable and you feel like having it on the head then this is the tool for you.
Now back to Half Dome, this is a hard-shell type mentioned above.
Design and materials
Speaking about Black Diamond Half Dome helmet, I want first to stress that its outer shell is made of hard acrylonitrile butadiene styrene (ABS), the same material used also by Petzl in their Elios and Elia helmets. Perhaps you may be more familiar with this kind of material if you have ever used Lego bricks; that is the same material used in the helmet.
Ventilation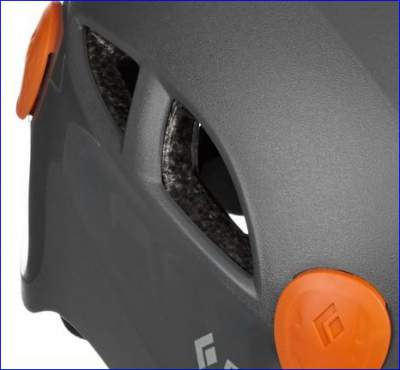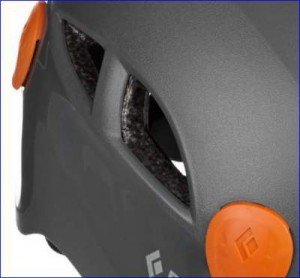 The old model of Black Diamond Half Dome which I had in hands in 2011 was not the best with respect to ventilation. The ventilation holes were really tiny.
However, the new version is very much improved. You have 2 large ventilation openings on each side (see them in the image on the right), and another 3 smaller on the back. I think they could have made the back openings larger.
A funny thing I have heard in a video where one person says that, because the helmet is made without too many openings, you can very effectively use it to give water to your dog.
Inside padding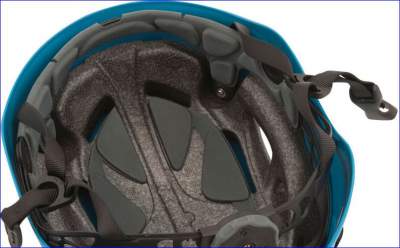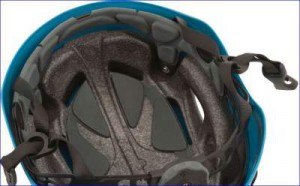 In the old model, the padding was wide and it was going around the head in a long line. So this was related with ventilation mentioned above, the padding was reducing it.
The new helmet is improved in this respect as well. The padding is shorter and more narrow as you can see in the picture. It is practically only around the forehead.
This pleasant open cell foam padding is just one part of the whole structure which you have inside. You may see this in the picture. All that you see on the bottom of the helmet is expanded polystyrene (EPS) foam.
Chin strap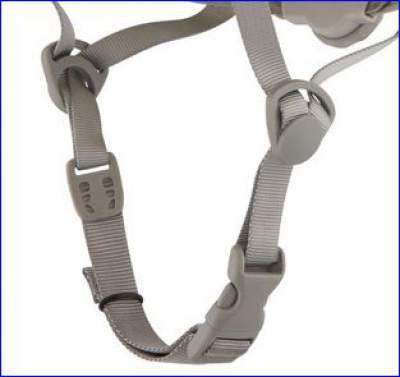 Simple and effective, with the buckle positioned under your ear, this is shown in the picture on the right. You can tighten and loose it easily.
There are 2 plastic elements added on the strap on both sides, see them in the picture, so that you can position the strap more backward or more forward as it suits you best.
Adjustment wheel on the back
I like this click-wheel very much. This is very similar to what I have in my old Petzl Elios helmet. It is very big, and you can adjust the helmet with one hand, and even with thick gloves on. Very simple to use, great feature.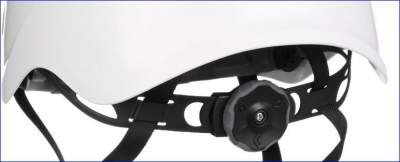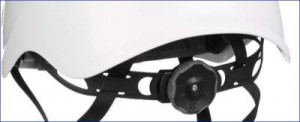 I prefer this to the system applied to Black Diamond Vector helmet. You can see the wheel in the picture here.
The whole system can be tucked inside the helmet when stored, or when it is in your backpack. In the old 2011 model, the position of that rear system was fixed, so they have improved the system nicely.
Clips for headlamp
There are 4 of them on the outer shell as usual, nicely made and easy to use. You just slide the strap of the headlamp beneath them. You can see them as the orange elements in one of the pictures above.
Here is a video by Black Diamond about their helmets:
Technical specifications & summary of features
2 sizes, S/M and M/L.
Weight :
S/M: 310 g (11 oz)
M/L: 340 g (12 oz).
Head circumference:
S/M: 48 – 57 cm (19 – 22.5 in)
M/L: 55 – 61.5 cm (22 – 24 in).
Hybrid design: molded EPS foam and ABS plastic.
Good ventilation.
Very adjustable suspension system.
Pros and cons
I have checked several sites that provide users' reviews. An absolute majority of them are really positive. So I would say it is hard to find any serious cons.
Conclusion
I conclude my review about Black Diamond Half Dome climbing helmet by stressing again that this is a reliable and extremely durable climbing tool. The differences when you compare it with its competitors are really unsubstantial. I can warmly recommend this helmet for anybody.
For updates about the price and the users' experience,  please follow the links given above. Thank you for reading. I shall be happy to have some comment from you. I wish you a pleasant day!