---
Black Diamond Ergo Cork trekking poles series includes two models: Trail Ergo Cork and Alpine Ergo Cork. Both of them have similar features which include:
ergonomic cork grip with a foam extension,
3-peaces shafts, and
2 external locks.
Below I give some more details about the two models.
Black Diamond Trail Ergo cork trekking pole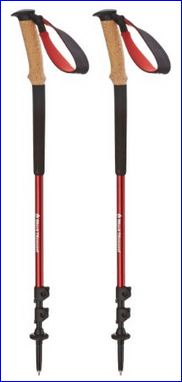 This is an award-winning durable aluminum telescopic-type design with 2 external lever-type locks, designed for 4-season tours. It can be reduced to 29 inches (74 cm) and expanded to maximum 55 inches (140 cm).
So the packed size is not so great and you would not use this for travel, but this is a quite usual feature for trekking poles.
The 2 lock mechanisms imply a lot of length adjustability. But the question is do you really need it. One would do the job, and I would rather have a fixed length for the lower two sections regulated by a press button lock, or to have a 2-sections pole.
You may see one such example in the case of these Komperdell poles. This extra lock only adds to the weight of the pole, and as a rule, such joints are weak points in the pole construction.
Of course, the most visible feature of these poles is the ergonomic grip, made of natural cork. You may see it the picture here. The cork is the most pleasant material for pole handles, and it performs great in any weather conditions, with or without gloves.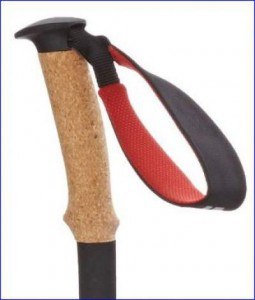 If you compare this handle with yet another Black Diamond model, namely Alpine Carbon Cork trekking poles, you will realize that the latter are of a bit better design. But in any case this grip is great and this would always be my first choice.
The integrated strap is adjustable and nicely padded with a moisture-wicking material that will pull moisture away from the skin. It is visible in the picture here.
The extended grip is of foam, which is again a very good choice of material for this purpose. It is nicely done and far longer than the upper handle. But I would like to point out again the Komperdell model mentioned above where this extension is around 40 centimeters long. You need such an extension if you are on a route with switchbacks, or on uneven terrain. I would really not consider poles without such a feature.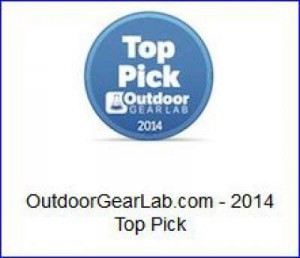 The pole ends with a Flex Tech tip. This whole 7-8 cm long part is replaceable, and it is designed to break in case your pole gets stuck in the rock, preventing in such a way the damage of the rest of the pole.
This pole-tip ends up with a carbide tip. It can be unscrewed and replaced with a rubber tip, which may be more suitable for some hard surfaces like rock or concrete.
The trekking basket, which makes a part of the pole-tip construction, is quite narrow and I like its design. Its purpose is to prevent the pole from dropping into narrow cracks in rocks or from going too deep into a very soft ground. This basket can be replaced by a powder basket that you will use in winter/snow conditions.
Technical specifications & summary of features
Weight/pair: 510 g (1 lb 2 oz).
Usable length: 74-140 cm (29-55 in).
Packed length: 74 cm (29 in).
Recommended use: backpacking, trekking, day hiking.
Materials:
– aluminum shafts
– cork handle
– foam extension.
Double FlickLock® adjustability.
Interchangeable Tech Tips.
4-season poles.
Unisex.
There is a huge amount of users' reviews for these poles, and they are enormously positive. Here are just a few quotes:
"They have worked extremely well and I cannot find any fault with them."
"I have had a pair of these for a couple of years now, and absolutely love them. I use them for day hikes and backpacking trails and mountains, as well as for exercise walks."
"These are by far the best pair I have owned. I will say trekking poles seem to be really subjective, but that said, for me these are perfect."
"

Sturdy, adjustable and ergonomic handles. Absolutely no issues while wading

."
Here are a few that are less positive (the first two are from customers who gave 3-star rate):
"One other thing I was not thrilled with was the packed length."
"

They are very long and hard to pack in smaller suitcases.

"
"

On day 3 of my hike, the handle top of the left pole began to split and peel, and continued to split and peel, over the next 10 days. I don't think it will last during a second trip." This is from a customer who gave a 2-star rate.

This is from an Amazon customer who gave 1-star rate: "

Had to return these because (as at least one other reviewer mentioned) the middle section on one of the poles was stuck and wouldn't come out, even when pulling on it with a pair of pliers. Horrible quality control, especially given the price."

All in all, in spite of a few bad experiences of customers, I would say Black Diamond Trail Ergo cork trekking pole is a great tool for the given price and in general.
---
Black Diamond Alpine Ergo cork trekking pole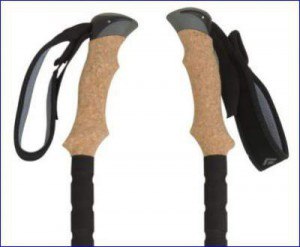 These poles are most suitable for hiking, backpacking, and mountaineering. The features are similar to the model presented above. So starting with the handle, here again, you have an even more ergonomic cork design.
The handle is at a 15° angle with respect to the main pole axis, which is aimed at reducing the stress on your wrist. On the upper part of the handle you have a palmtop, see all this in the picture here.
The strap is adjustable and inside again padded with a pleasant wicking material. Below the main grip you have an extended foam grip of the length similar to the Trail Ergo model.
This is a 3-section pole, with 2 external locks, all similar to the model above. The essential difference is that the top shaft is aluminum and the lower shafts are made of carbon. Here too you have FlickLock external lever-type lock system, easy to use and reliable.
The tip is practically the same as in the previous model, with the summer basket and with the possibility to replace it with a winter basket (not included), and you have the removable carbide end at the bottom.
Technical specifications & summary of features
Weight/pair: 1 lb 3.9 oz (564 g).
Usable length: 39.4 – 51 in (100 -130 cm).
Packed size: 29.5 in (75 cm).
Recommended use: hiking, backpacking.
Materials:
– aluminum upper shaft
– carbon fiber lower 2 shafts
– cork grip
– foam extension grip.
Trekking basket included.
Interchangeable carbide Tech Tip.
Locking mechanism: FlickLock Pro.
The users' reviews of these poles are again enormously positive, and the average rate is very high.
But there are a few objections and complaints, so I suggest following the Amazon link above.
I give a slightly lower rate to these poles as compared to Trail Ergo model. The main reason is the weight.
---
Conclusion
So to summarize this Black Diamond Ergo Cork trekking poles review, these are high-quality 3-section poles, with a lot of adjustability achieved by the 2 external lever-type locks. Both models are very good, and users' reviews show this very clearly. Yet my preference goes to the Trail Ergo Cork model, primarily due to the price, but the difference in weight is also not negligible.
For updates regarding the price and to read more users' reviews, I suggest following the links given above.
Thank you for reading, and do leave me some comments in the box below. Have a nice day.