---
Black Diamond Alpine Carbon Cork trekking pole is one of the Alpine series, which includes also Alpine Carbon Z-poles, Alpine FLZ poles, Alpine Ergo Cork poles, and Alpine Carbon Cork poles.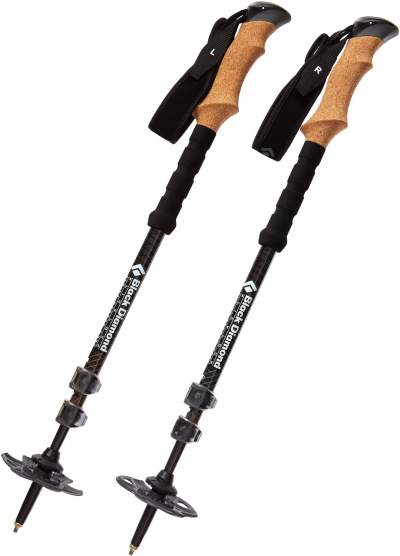 As the name suggests, the Alpine Carbon Cork model implies the best materials used to build it. The shafts are made of carbon and the grip is cork. The cork grip is the best for any weather conditions. In cold conditions, it is more pleasant for the hand, and it absorbs sweat in hot conditions.
There is a foam extension beneath the top grips which allows you to drop the uphill hand lower on the shaft while you are traversing some steep terrain. The extension has a ribbed structure, which allows for a more secure grip.
These poles are suitable for any outdoor activity, like trekking, hiking, backpacking and expedition tours.
Length adjustment and locks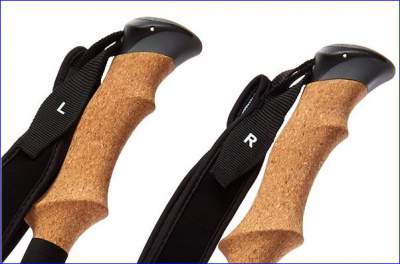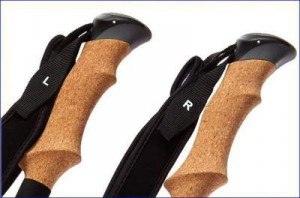 This is a 3-section telescopic model, with 2 external length adjustment positions. This allows you to have poles with the length from 25 to 51 inches (63.5 to 130 cm).
The lock mechanism here is external, lever (or clamp) type, more precisely Black Diamond's own FlickLock mechanism made of metal. This is an improved version, 20% smaller and 30% easier to open than the previous versions, while in the same time it provides twice stronger holding force.  So here again you have the best choice used for the lock.
Why is external lock better than internal twist type lock

Such kind of lock is more user-friendly and more reliable than any twist-type model. Already visually you are able to see if the pole is locked or not, which is not the case with the twist-type locks. Also, this kind of lock will not accidentally loosen like the twist type lock; I have a lot of bad experience of that kind with my twist type poles.
Some cons with respect to multiple length adjustment points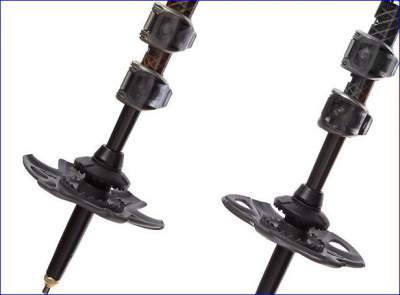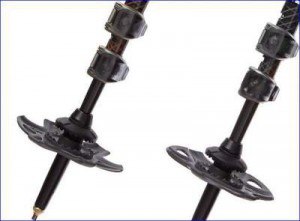 At this point, I would like to say that I am not so delighted with such a large adjustment range, simply because you normally do not need it. The adjustment locks are typically weak points in any poles.
So I would rather have one single length adjustment lock because it alone can provide a large enough range of adjustability.
In this case, instead of the second adjustment, I would rather have a fixed length, secured by a spring lock button. You can see one such example in my another post about LEKI Micro Vario trekking poles.
On the other hand, every additional external lever-type lock adds to the weight. So imagine how redundant and unnecessary this is in the case of 4-peaces poles with 3 adjustment locks, which are indeed available on the market.
Here is a YouTube video about Carbon Cork trekking poles, please have a look:
Technical specifications & summary of features
Weight: 1 lb 1 oz (475 g)/pair.
This is not the lightest model available, see for example this list.
Minimum length: 25 in (62.5 cm).
As above, definitely not the shortest packed size on the market, compare with these models.
Maximum length: 51 in (130 cm).
Materials, the best possible:
– Cork grips and foam extensions.
– 100% carbon fiber shafts.
– Dual-density top.
360-degree Nubuck leather webbing.
Double FlickLock Pro external locking mechanisms.
Interchangeable carbide Tech Tips.
Low-profile trekking baskets and powder baskets.
Sold in pairs.
Unisex.
Why carbon poles?
Trekking and walking poles made of carbon are ultralight and durable.
The feeling is different, carbon poles do not vibrate like aluminum and titanium poles, when you strike a hard surface.
However, carbon is generally less flexible than aluminum and titanium.
 Why cork handles?
By far the best performance in both cold and hot weather conditions.
Pleasant feeling even when they are wet, regardless if it is from sweat or rain.
Pleasant and soft touch in all conditions.
More lightweight than any other material.
Less probable to cause blisters as compared with any other material.
User experience with Alpine Carbon Cork trekking poles
I have read a huge number of reports by users. In general, the opinion about the Black Diamond Alpine Carbon Cork trekking pole is very positive. See some sentences from comments here:
"Toughest trekking poles ever."
"T

ruly are the best poles out there.

"
"So easy to adjust on the fly during a hike, and extremely durable."
"Unlike my experience with a pair of Leki poles with their version of a flip-lock — the locking mechanism did not need periodic tightening."

"So incredibly comfortable and sturdy."

"

I'm sold on the cork handles and will never purchase another set without the cork handles.

"
"

The FlickLock is easy to use even with bulky gloves and locks solid."
There are however a few complaints like these:
"The straps are asymmetrical without any obvious reason, so you have L and R strap."
"I did have a problem with the cork crumbling off in little pieces in the ridges on the handles."
"

An excellent product but the straps are too short for winter gloves."

"…

lower section not clamping securely when collapsed

."
These poles are presently available on Amazon, to check for the price update just follow the links above.
Thank you for reading, I shall be happy to see some comment from you in the comment box below. Have a nice day.