---
If you are reading this, you are probably planning a trip to India and, naturally, the first concern is where to get water from. So, what is the best water purifier for India? Keep reading, you will find it below.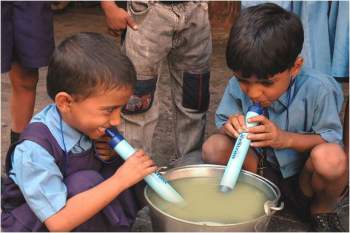 In general, tap water in India is not safe for foreigners. You will surely go for bottled water, but this is definitely not completely safe. It is not rare to have bottles that are refilled with tap water. Boiling? Yeah, this is always a great option, but you realize this is not practical. So, you will need a filter or purifier.
According to Wikipedia,  there is a term used to describe the problem of travelers to India, a very appropriate one, "Delhi Belly". I am sure you guess what this is, of course, diarrhea if you are lucky. I experienced it in their neighborhood, in Pakistan. It wasn't pleasant, take my word for this. I have also read about flesh-eating parasite which somebody got by drinking unsafe water in India.
I am sure you have already done your own homework and you know what to expect. It is a matter of being reasonable.
What to expect from filters and purifiers
Many of filters and purifiers are described in this site. In fact, I am confident in saying that all the best portable tools of this kind are described, and you can see them all here.
Quite generally, you can have:
Purifiers which work on UV (ultra-violet) light effects on bacteria and viruses. They do not kill them, they affect their reproductive organs, so they do not multiply in your body.
Filters which are with pores that are of micron or sub-micron size, so they physically remove practically all bacteria.
Tools with pores 0.01 microns. These tools remove even viruses, so I would call them true purifiers.
What filters and purifiers can't do
None of these tools can remove
Chemicals (C).
Heavy metals (H).
Radioactive substances (R).
So do not be fooled with specifications if you see such statements. Some of them have activated carbon in the filter and they can reduce pesticides to some extent, but nothing more than that. So remember, CHR are out of scope.
In water, in most cases, you only have to take care of bacteria. Viruses are not expected to be in the water in any case, they need living organisms to survive longer. However, there are exceptions like Hepatitis A virus which can survive for months both in fresh and saltwater. So bear this in mind when you choose your tool for travel.
The size of bacteria and viruses
This is necessary to know in order to understand the technical specifications of the tools given in items 2 and 3 above.
♦ The smallest bacteria, in general, are above 0.2 microns.
♦ Giardia and cryptosporidium are around 10 microns and 4-6 microns, respectively.
♦ Bacteria Escherichia coli is with the diameter in the range 0.25 – 1 micron.
♦ Viruses are mostly in the size range from 0.02 to 0.4 microns. The smallest known virus is the Porcine circovirus type 1, and its diameter is 0.017 microns.
So with these data in front of you, you can make an educated choice of a filter or a purifier.
My list – top 5 water filters and purifiers
You have 5 top tools listed here, but they all very different. So the order is not my order of preference, and I would not make a rank list. Instead, have a look and decide what the best is for you.
These items belong to the group of filters, i.e., group 2 above. I added them both here because of the following:
Their filtration system is essentially the same, this is the same brand. These tools remove everything above 0.2 microns in diameter. The list of bacteria and parasites they remove is impressive, in total 30 of these micro-organisms are removed. Please follow the links to see more.
The difference is physical. As you see from the name, the LifeStraw Go Water Bottle includes a bottle, and this may be convenient to have when you travel. So this is the matter of preference and local circumstances.
The LifeStraw Personal Water Filter has been on the market for longer than a decade now, this is a top-rated product regardless of where you search, and the best-selling item on Amazon.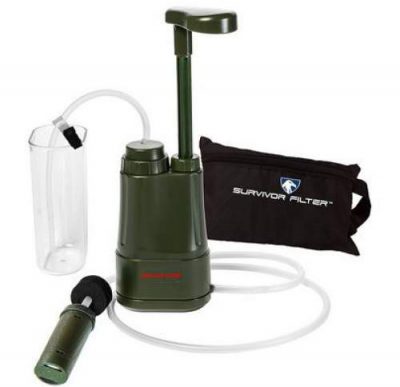 This amazing tool removes everything above 0.01 microns. So, in view of this and the sizes of viruses and bacteria given in the text above, this is a true purifier, one from group 3 mentioned above.  You can read much more about it in my separate text.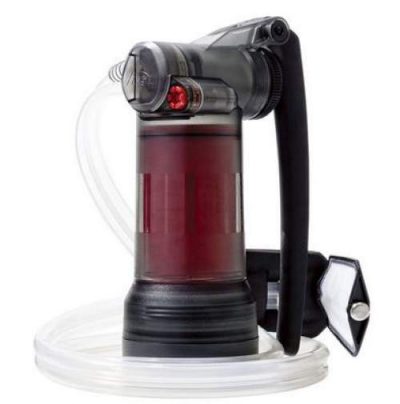 This is an exceptional tool, heavier than others, but with some truly unique features. If you follow the link, you will realize how it works, and you will see the people who built it, using it in real life. I find it impressive, and frankly speaking, this is the tool which I trust completely. It removes everything above 0.02 microns in diameter. But it is expensive, around $350 in the moment of writing this text.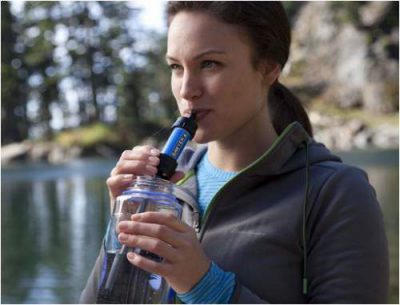 This is a tiny 'giant', on the market for many years now, the tool that has stood the test of the time in a true sense. It is really inexpensive, only around $20, and it is very small so you can carry it in any bag you have with you. In addition, as the name suggests, it is a system in the sense that you have a few things included: a water bladder, MINI filter, back-flash, and a straw. This filter removes all stuff above 0.1 microns in diameter.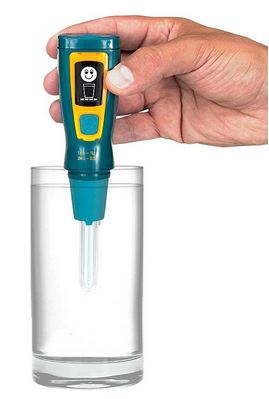 This is a group of tools, in fact, 5 of them from the same brand and described in my text, so please have a look. They work on batteries, there are similarities and differences between them, but any of them will do the job.
You will notice that they are relatively small, so they will not take much space regardless of where you put them in the luggage. They destroy the reproductive organs of micro-organisms, so they don't kill them directly.
---
Summary
So, you have seen them all, but if you still cannot decide, let me help you with this:
If you want to play completely safe, then combine the UV type purifier, the e) item above, and any of the filters and purifiers a)-d). In this case, I would choose the smallest from both groups, like the SteriPEN Ultra, and Sawyer Mini. They both together can fit in any handbag.
The price is a big issue? Then MSR Guardian is not a tool for you. In this case, go for LifeStraw or Sawyer Mini, those are great tools, their price is around $20 only.
You have a problem with the space in the luggage, and also want a tool that will fit into any handbag? Then Sawyer Mini should be the first choice, and the LifeStraw the second. Most of the UV purifiers are also very handy.
What is the most practical tool of all? I would say the LifeStraw Go Water Bottle. Quite close is the Sawyer Mini because it can directly be attached to a bottle. The UV purifiers are also a very practical and elegant solution, but you realize this is a completely different concept. I am not sure that everybody is comfortable with its principle of work.
I wonder what you think now, what would be your best water purifier for India? It will be great to hear from you, there is a comment box below. If none of these satisfies you, remember what I mentioned above, there are more filters and purifiers described in the site, so have a look here.