---
There has been a lot of progress recently in the portable water filtration technology that is of great importance for hikers, backpackers, and mountaineers. So in this text, I present 5 best water filters for hiking, all truly impressive tools. Some of them are with pores so fine that they belong to the class of water purifiers.
The list includes the following five tools, given in alphabetical order:
Weight, grams
Pores, microns
Etekcity
Water Filter
60
0.01
LifeStraw Steel
Water Filter
160
0.2
MSR Guardian
Purifier
490
0.02
Sawyer Mini
Water Filtration System
57
0.1
Survivor Filter PRO
227
0.01
As you see from the table, all of them are with pores in the range 0.01 – 0.2 microns. This means that they can remove all known bacteria, and some of them remove even viruses so they are true water purifiers. All of them are with hollow microfibers as a filtering material.
My choice of the tools is motivated by the following factors:
Size & weight. These features matter if you are an ounce-counting outdoor adventurer carrying all your stuff in the backpack.
Reliability. Some of the tools have clear statements about independent laboratory testing.
Price.
Versatility. I shall say more about this later. For example, some tools only allow for drinking safely, but not collecting clean water, and this may not be optimal for a hiker.
Those are all mechanical tools, no batteries are needed. This is what you need outdoor.
I shall point out these features for each of the items below.
---
Etekcity Water Filter
This incredible tool comes with a 3-stage filtering system, and with 0.01-micron pores. So this is a purifier, in spite of the word 'filter' in its name. It weighs only 60 grams, so clearly it is ideal for hikers and backpackers.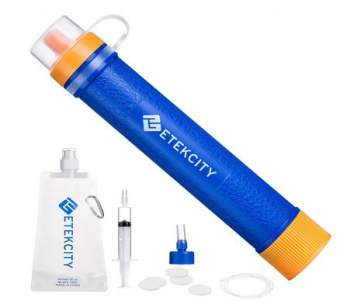 The Etekcity is hydration reservoir compatible. This means that you can carry the water in your water bladder and you can attach it directly to the purifier and drink. For this, you would just remove the bite valve and attach the bladder hose to the nozzle which is on the bottom section of the filter.
The system includes:
Personal Water Purifier with 2 filters inside.
Foldable water bag.
Extension tube.
External pre-filter.
Backwash device.
So this is what makes this tool very versatile. You can drink water from a source, but you can also attach it to a bottle, you can attach it to its own water bag, so you can drink directly or you can store the filtered water in a separate clean bottle, and you can attach it to the water bladder in the pack.
With the price below $19 and with such features, it is no surprise that the Etekcity is Amazon's bestseller. The average rating of this tool at Amazon is 4.6/5.
---
LifeStraw Steel Water Filter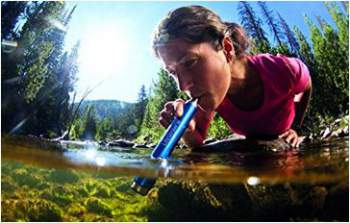 I have included this Steel version here only because it is the latest one from this world renown brand. You should know that its cousin, the original LifeStraw Personal Water Filter is still the bestselling item on Amazon, and this has been so for longer than a decade now, ever since 2005. But their essential features regarding the water filtration are the same.
So it is up to you which one you would like to use. The Steel version shown in the picture is heavier than the original plastic tool.
This tool uses a hollow-fiber micro filter which removes from water everything with the diameter above 0.2 microns. So you will be safe from all bacteria of interest to you. They provide proofs of rigorous testing, so the tool is definitely reliable, and it is very durable as well.
The only downside of the LifeStraw Steel Water Filter is that you do not have an option to collect water. You just drink from whatever water source is around you.
The price is reasonable, around $47 at the moment of writing this text, please check the link below for updates. The average rating by Amazon customers is 4.6/5.
---
MSR Guardian Purifier
I must say, this is the most impressive water filter tool on the market and relatively new, it appeared in 2015. At the same time, it is the most expensive and the heaviest of all presented here (490 grams). As you see from the name, they call it purifier and with all good reasons. After it has appeared on the market, it has collected a huge number of awards.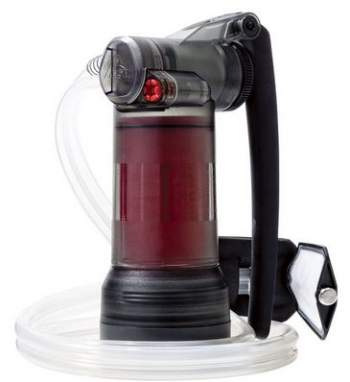 Here are a few most important features and benefits:
It treats 2.5 liters per minute. So, in this respect, no other tool here or anywhere can be compared with the Guardian.
The average lifetime of the filter is more than 10000 liters.
This filter has a self-cleaning system; so no clogging or extra cleaning and flushing. This is achieved through a clever system – it pumps 1/10 of the filtered water out, all the time. So it cleans itself automatically.
The pores in this tool are 0.02 microns. So it will remove practically all viruses, see below about virus sizes. They provide proofs about independent testings.
This tool withstands freezing temperatures.
It is very durable construction – survives drop-testing from 6 feet to concrete.
This is a pump, so you can collect water and have it for cooking as well.
So this is a totally unique tool. Its price is around $350 at the moment of writing this text. The average rating on Amazon is 4.5/5.
---
Sawyer Mini Water Filtration System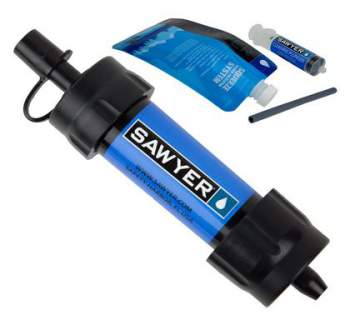 The Sawyer Mini has been on the market for many years now. This tiny 'giant' is enormously popular and reliable and the lightest of all, 57 grams (2 oz) only.
Yet, as you realize from the name, this is a 'water filtration system". The meaning of this is that you can use it to collect water and to store it and carry with you. So, regarding the versatility, this is a champion. It comes with the water bladder, MINI filter, back-flash, and straw.
This tool is also the least expensive (together with the Etekcity), only around $20. On the other hand, its pores are "only" 0.1 microns. So it will work well with bacteria, but this is a filter and not a purifier. If you need a tool that has truly stood the test of time, please see more in my separate review.
If you need a tool that has truly stood the test of time, this is the one. Its average rating on Amazon is impressive 4.7/5.
---
Survivor Filter PRO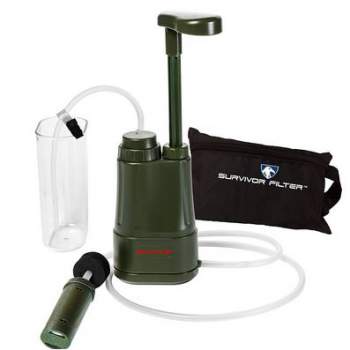 This is yet another tool with pores of 0.01 microns. So with respect to this, it is similar to the Etekcity presented above. But this is a tool with a pump. The package includes the following items (shown in the picture as well):
Filter main body.
An inlet hose together with a primary inlet filter and floating elements.
An outlet hose.
A carry bag with a draw string.
The weight of the tool is 8 oz (227 g), and the capacity is 0.5 liters per minute. Its good features are:
Easy to use.
Lightweight.
Great price.
Great design.
At the moment of writing this text, the price is very reasonable $60. There is a huge number of customers' reports om Amazon and the filter has received a very high average rate 4.5/5.
---
What filters and purifiers can't remove
These tools cannot remove:
Chemicals.
Heavy metals.
Radioactive substances.
Some of them have activated carbon in the filter, and this can partly reduce pesticides.
---
About the size of bacteria and viruses
This is necessary to know in order to understand technical specifications of the tools.
♦ The smallest bacteria, in general, are above 0.2 microns.
♦ Giardia and cryptosporidium are around 10 microns and 4-6 microns, respectively.
♦ Bacteria Escherichia coli is with the diameter in the range 0.25 – 1 micron.
♦ Viruses are mostly in the size range from 0.02 to 0.4 microns. The smallest known virus is the Porcine circovirus type 1, and its diameter is 0.017 microns.
---
Summary
So to conclude this text about best water filters for hiking, I do not give my own rating for these tools here, but I do have my number one. This is definitely the MSR Guardian Purifier. But as you realize, this tool is heavy as well, and expensive.
There are some other things to bear in mind when you choose a filter for you. This is about dealing with bacteria most of the time, viruses normally do not survive in water. This is why any of the filters above is usually good enough. So do not disregard the Sawyer and the LifeStraw when you see their pores of "only" 0.1 and 0.2 microns, respectively. These are definitely great tools. Do you really need anything better, heavier, and more expensive?
Note also that only the MSR Guardian is a tool suitable for groups. The capacity of the Survivor is far smaller and I see it mainly as a tool for solo use. The other tools are also for personal use only.
As you see this is a rather limited list. If you want to see more tools of this type, please visit my separate page where many tools are presented, both filters and purifiers.
Thank you for reading. In the case of comments and questions, please use the comment box below. Have a nice day.
---