---
In this text you have the list of the best Gregory backpacks for men, all are representatives of different series and all top-notch outdoor tools.
---
Why this text
Gregory is a world renown brand, they build only backpacks and there are many of them on the market in numerous series. So sometimes it is hard to keep the track of what is available. Therefore it may be useful to have a short selection of the best examples of their packs in one place.
The Gregory backpacks are typically in series, and they typically include 2 – 5 backpacks of various sizes. They have them built also separate for men and for women. The list given here includes:
Packs for men.
Representatives of different series.
In the text below I always indicate the other packs in the corresponding series. All of them are reviewed in detail in my separate texts.
---
Gregory backpacks for men ordered by volume
So here is my list and packs are ordered by the volume from smaller to larger:
---
1. Gregory Citro 25 hydration pack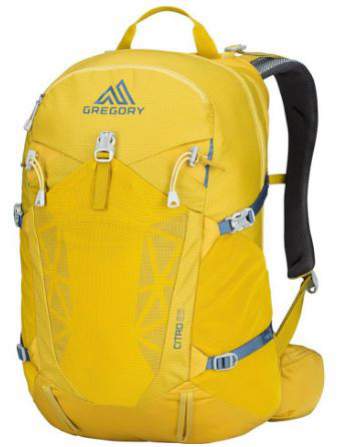 This series includes packs of 20, 25, and 30 liters, so these are daypacks in the true sense. The word 'hydration' in the name indicates that they all come with a hydration bladder included. So this is a real bonus with these nicely built packs.
The Citro 25 is perfect for very light and fast day tours. You would not believe, but this tiny pack comes with a steel frame, so the structure is very strong. This peripheral frame supports also the suspended mesh which you have on the back, so ventilation is great in such a design.
You have 6 useful pockets, and those include also zippered hip belt pockets. There are attachment elements for poles and for an ice axe, and you also have dual compression straps on the sides. So there is a lot of options for carrying the stuff attached from outside, and the pack can carry far more than what you might conclude from its official capacity.
The only thing I miss here is a rain cover. Please see more in my full review. And no worry, if you dislike this color, there are other colors available.

---
2. Gregory Zulu 30 pack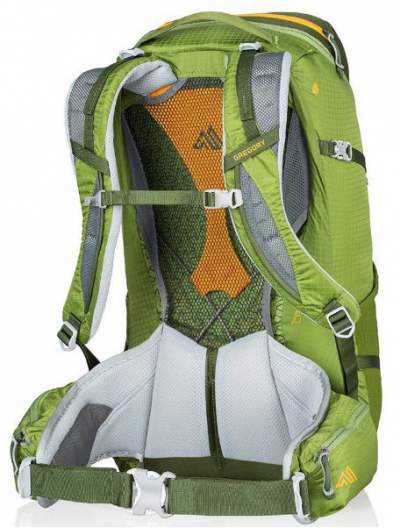 Gregory Zulu is a massive series which includes the packs of 30, 35, 40, 55, and 65 liters. When I think about the packs from this series, the first thing that comes to mind is their incredibly generous and comfortable lumbar padding, just see the picture.
But this is not all. These packs come with yet another feature which is my favorite, and this is the tensioned mesh instead of the usual back panel. I have been using hiking packs with such a design in the past 15 years and can say there is nothing that can match it when it comes to ventilation.
This pack is built in two sizes, M and L, with 30 and 32 liters, respectively. All other packs in this series are also in multiple sizes so imagine how many possible Zulu sizes you have. But there is a downside of this; they do not have the harness adjustability, so it is necessary to properly choose your size.
This particular Zulu 30 is a panel loading type, but this feature is not the same for all of them. They all have an incredibly strong suspension system which includes an X-shape steel frame, you can see it in the picture here.

---
3. Gregory Stout 45 pack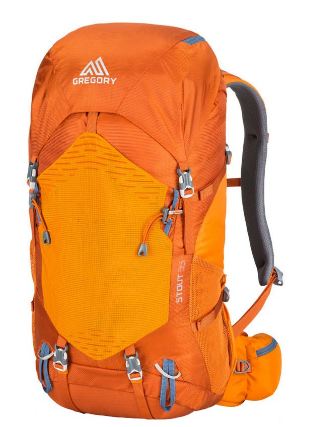 This Stout series includes packs of 30, 35, 45, 65, and 75 liters. Those are all lightweight packs and the reason for adding this mid-size 45 liters version here instead of some other size is simply because among larger packs the Baltoro is a better choice, and among the lighter packs you already have an excellent choice, the Zulu 30. But this is a great series and certainly, check all the sizes which its includes.
This pack is built in one size, and this is partly because you have the torso adjustment here, so you can tune it as precisely as you want. The pack is a top-loading type with the standard lid and collar.
Yet another great feature here is the rain cover which is included. The frame is again a peripheral steel structure and you have a breathable mesh for ventilation on the back panel.
There are 7 pockets in total, and you also have a full hip belt. The attachment elements are standard, with bottom straps, dual side straps, and poles attachment loops.
There are several colors available, just to know if this what you see is not your favorite.

---
4. Gregory Focal 48 Pack for Men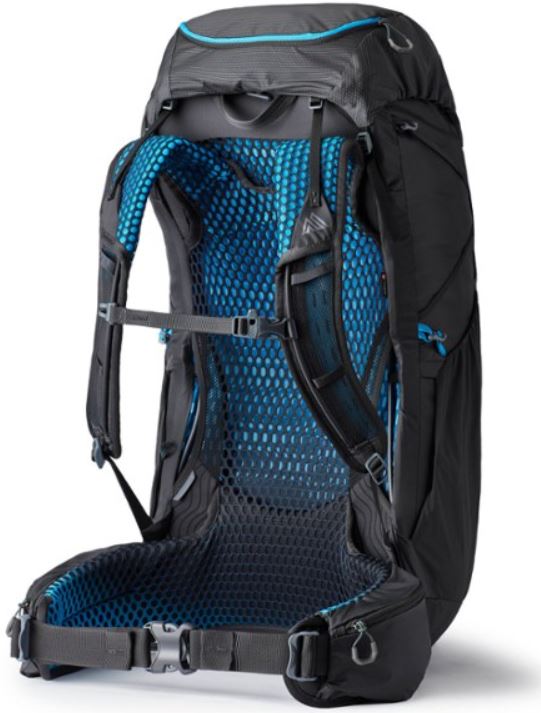 This pack is from their new ultralight Focal & Facet Series for men and women. All these packs are extremely ventilated with a tensioned mesh back panel visible in the picture. They are ideal for ounce-counting hikers and backpackers.
They build this pack in 3 sub-sizes, so you have 44, 48, and 52 liters. The pack offers a lidless use option to reduce weight, and for this you have a flap included to close the pack.
The suspension is based on peripheral internal frame and this is what they call the FreeFloat ultralight suspension. It is easy to realize the meaning of the word ultralight, the 48 liters version weighs only 2.6 lb (1.18 kg).

---
5. Gregory Optic 48 pack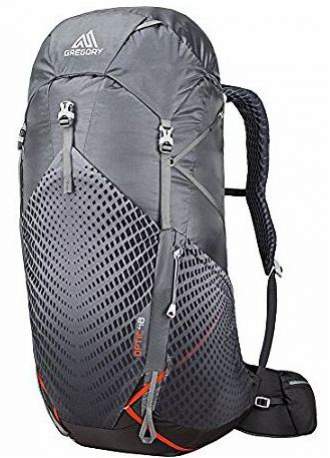 The Optic is a completely new series by Gregory, launched in 2018 it contains two packs, this 48 liters and also Optic 58. This is the lightest series Gregory has ever built, it sounds incredible but this 48 liters pack weighs only 2.47 lb (1.12 kg).
So these are mid-size packs suitable for weekend and multi-day hiking and backpacking tours. In spite of such a small weight, this pack has many features. I would start with its suspension which is based on a peripheral aluminum frame, and it includes a tensioned mesh. So this is again an excellent ventilation system.
The pack has 7 pockets, and it also comes with the bonus rain cover. But you do not have harness adjustability here, and the pack is only with the top access, just to know if you prefer to have this all; in such a case check the Paragon pack below.
But you have 3 sizes with different torso length so you can certainly choose your proper torso size. More is available in my review.

---
6. Gregory Paragon 58 Backpack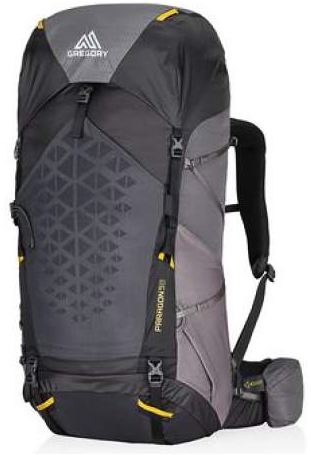 The Paragon series includes the packs of 38 liters, 48, 58 and 68. These are quite lightweight packs but loaded with features, on the first look similar to the Stout series.
You have an adjustable harness here, and this is the model where Gregory introduced their Aerolon ventilated back panel with cut-outs in the back panel foam covered by a mesh. This all is supported by an aluminum frame.
The pack also has an adjustable hip belt, so the hip fins can be re-positioned to fit perfectly around your hip bones.
There is an option for lidless use, so you remove the lid and use the divider which is normally between the two compartments to close the pack. So you realize, there is the bottom compartment here.
But there is more; the rain cover is included, and the pack's internal hydration sleeve doubles also as a daypack. You also have a QuickStow feature for glasses, a bungee cord on the left shoulder strap. The pack has 8 external pockets and numerous attachment points.
You practically have everything that a great backpack should have. I would say that all packs in this series are great for their purpose; the smallest as daypacks for hiking and mountaineering, and the larger packs for extended backpacking and hiking tours.

---
7. Gregory Baltoro 65 pack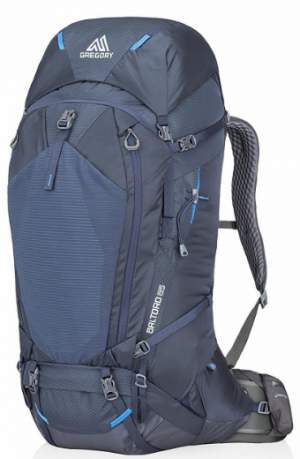 The Baltoro is the most famous of all Gregory packs, this series has received numerous awards in the past, and this Baltoro 65 is probably the most iconic pack Gregory has ever built. The series includes the packs of 65 liters, 75, and 85 liters.
This complete series has been modified this year so what you have here in the picture is its latest 2018 version, but both versions are available on the market.
This pack has already been great but they have improved it further. So you have what they call A3 system, which means Auto Angle Adjustment. This implies that the shoulder harness on both sides pivots and rotates independently; and the same independent rotation is on the hip belt. This results in a pack which accommodates to your body movement and with this, you avoid hot spots and save energy.
The harness is partly adjustable; you have two different positions for the torso length. But this is compensated with its 3 sizes, S, M, and L. So you can get your optimal torso size.
In addition to this, the shoulder harness is built in 3 sizes, and the hip belt in 5 sizes, so you have 15 different combinations to fit your body size.
This pack has 10 external pockets, so you have plenty of options for organization. There are 3 access points to the pack, from the top, from the bottom, and from the front.
This great pack comes with rain cover, and also with the QuickStow feature for sunglasses.
But what sets it apart from its competitors is its load-hauling capability, it is designed to support the load of up to 50 lb (23 kg).

---
8. Gregory Denali 75 pack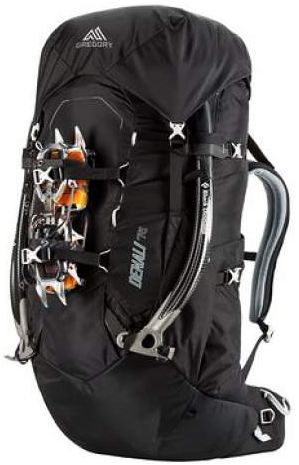 This is a technical and expedition backpack designed for experts and modern alpinists, and a load hauling tool which allows you to carry the weight of 30 kg and to do this comfortably. Note that there exists also 100 liters version of this pack.
You have the top access to the main compartment, and a side access as well; there is no bottom entrance here. It is built in three torso sizes, but you do not have torso adjustment. These sizes also imply different volumes, so you have 72, 75, and 78 liters in the three sizes.
Being a technical pack, the focus is on the attachment elements, and you have them many. You have dual daisy chains on the front, loops for the ice axes are in place, daisy chains are on the shoulder straps, dual compression straps are on the sides, so you can attach skis, and also snowboard. Several attachment elements are on the hip belt as well.
They have built what they call the Fusion Flex Pro suspension system as "the pinnacle of suspension performance". It includes dual vertical aluminum stays which you can access from the main compartment, and an anti-barreling cross stay in the middle of the back, together with a frame sheet.

---
9. Gregory Baltoro 75 GZ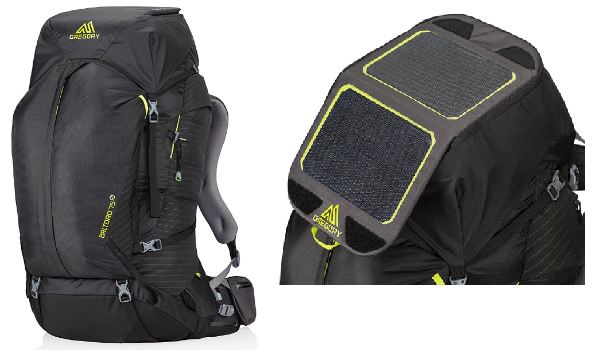 Here you have an extraordinary award-winning pack which offers a full charging autonomy for adventurers on expeditions and extended outdoor tours. This pack comes with:
Integrated Goal Zero Nomad 7 Plus Solar Panel. Now you understand the meaning of the letters GZ in the name.
The Goal Zero Flip 10 Charger.
Of course, this implies a really expensive tool, but it is worth the money. Note that the solar panel alone is worth around $100. But see what else this pack offers.
You have 3 access points to the pack, from the top, bottom, and from the front. So from this, you realize you have the classic top lid plus the bottom compartment.
It comes with a rain cover included. Similar to several other Gregory packs, this pack also has the internal reservoir sleeve which doubles as a daypack.
The suspension system is excellent, so here too you have the A3 system with independently pivoting shoulder harness and hip belt wings. The pack is with the Quickswap 3D pre-curved anatomical shoulder harness and hip belt.
The pack is built in 3 sizes so this implies also different volumes, and you have them in 71, 75, and 79 liters. Please see more in my detailed review.

---
10. Gregory Baltoro 95 PRO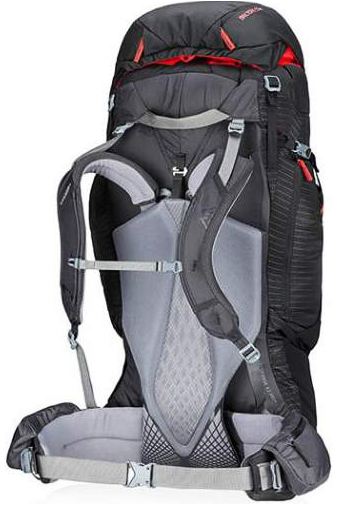 This is one of the largest Gregory's packs currently available on the market; it is designed for extremely heavy loads up to 75 lb (34 kg). They have designed this pack for the longest expeditions, and everything they used in the construction is the top class and durable. Just see the fabric, it includes 210D CryptoRip nylon, 420D nylon, and 630D HT Tri-Layer nylon on the bottom.
The frame is with aluminum tubes 7 mm thick, and in addition, there is a spring steel anti-barrelling stay, plus a frame sheet.
The pack is built in 3 sizes, and the harness is adjustable only to 2 different positions, similar to the normal Baltoro packs. Note that the hip belt is not pivoting like in the standard Baltoro packs.
You have 11 pockets in total, a rain cover is included, and the reservoir sleeve is designed to be used as a daypack.
This is a heavy pack, just to know, from 2.95 kg to 3.2 kg dependent on the size. But it is designed to carry the heaviest loads so it must be heavy.

---
Final thoughts
So this is my list of the best Gregory backpacks for men, as I mentioned above these 9 are just representatives of many packs. Note that within one single series you can have significant differences so please follow the links to the packs indicated in the text. One example of that kind is the Zulu 30 which is panel loading type, but this does not hold for all packs in the Zulu series. Also, some large packs like the Paragon 58 have the dual-use daypack, but this you do not have in smaller Paragon packs, etc.
Thank you for reading, check also my separate text with the best Gregory packs for women. Please use the comment box below in the case of questions and comments. Have a nice day.

---