---
Asolo Fugitive GTX hiking boots for men are durable and completely waterproof boots suitable for backpackers, hikers, and mountaineers. These boots have been very popular for many years now, they offer a great foot protection and stability on various types of terrains. 
Construction & materials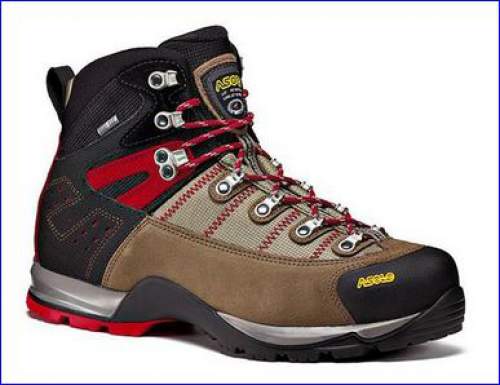 Fugitive GTX boots are a medium-duty, full-height tool, with a robust and sturdy construction. The letters GTX come from the words GoreTex. The collar is well padded and the tongue gusseted very high.
The upper part of the boot is a combination of leather and high tenacity nylon. The toe tip is additionally protected by a rubber cap, and similar extra protection is on the back side. These are rather high boots, completely waterproof, and you will be safe in up to 7 inches (17.8 cm) water depth.
You have nylon laces that run through 4 pairs of metal loops and 3 pairs of hooks higher up. A GoreTex layer is everywhere inside the boot and this makes the boot waterproof and breathable.
The sole is a nice piece of technology. Here you have an anti-torsion stiff shank with reinforcement bars (see the picture) covered with a soft layer that comes in contact with the foot.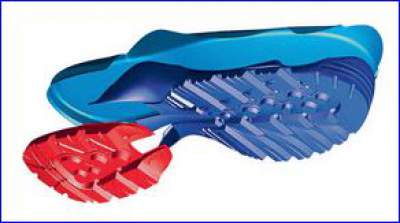 This is Asolo's Duo Asoflex anti-torsion shank, and beneath it is a rubber and polyurethane combination, you can see it in the picture right.
The outsole is Asolo's bi-density Synchro Rubber in combination with Asobrake heel.
---
Summary of specifications & features
Best use: hiking, backpacking, mountaineering, popular with motor-bikers too.
Average weight for all sizes: around 3 lbs (1.36 kg).
Warranty: 1 year.
Material: 1.6 – 1.8 mm water-resistant suede leather/high tenacity Cordura nylon/GoreTex.
Toe protection – rubber cap.
Midsole: polyurethane (PU).
Outsole: Asolo Syncro Rubber/PU.
Removable footbeds.
7 metal eyelets.
Water flood level: 7 in (17.8 cm).
Size (US): 7-14.
Several different color combinations: w

ool /black

; gray/black/mandarin; b

lack/gun metal.
Pros and cons
Here is a summary of the possible cons and pros:
 Cons
 Pros

Not the best ankle support.
Hard to find any other.

Great foot support.
Completely waterproof.
Very durable.
Good traction.
Note, this is a very popular boot that has been around for over a decade. There are complaints about the quality of the most recent version.
I would warmly recommend you to read this report about field testing of these boots. Observe that this was 10 years ago, that is how long these boots have been around.
Here is a short video (only 1 min 33 s) about Asolo Fugitive GTX boots, have a look:
---
Conclusion
In conclusion to say that these Asolo Fugitive GTX hiking boots for men have been around for over a decade and there are many good reasons for that. They are waterproof, sturdy, and comfortable, and they offer an unmatched stability and security for your feet. If the price would not be an issue, I would put them on the top position of all the models shown in the table above.
If this text has been useful to you, please share it with others. Regarding the price, please check the links above for updates. Note also that you may have a free shipping from Amazon.
Thank you for reading and do leave me some comment, there is a comment box below. I wish you all the best.