---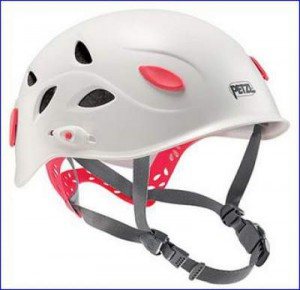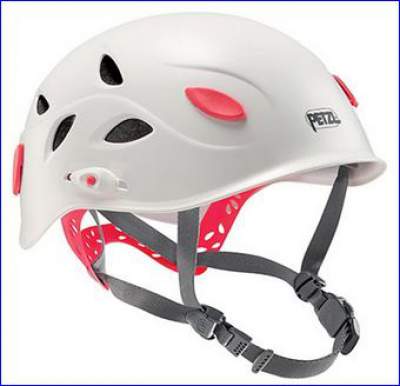 This text is about Petzl Elia climbing helmet, nicely designed specifically for women. The helmet is made in one size only.
The material used here is a lightweight ABS plastic, so this is a very durable tool, very similar to the Elios unisex model. With 285 grams, you will not feel it on your head.
This is a versatile tool, suitable for various activities, like climbing, mountaineering, ferrata climbing, caving.  
Here is a video by Petzl about Elia helmet, so please have a look:
Petzl Elia design
Petzl Elia is a helmet which is designed specifically for women. By this, I mean having real features to suit women, apart from the usual color and size features which you may find in some other models.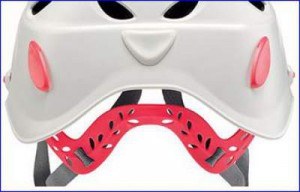 Elia helmet looks great and comfortable, designed for usually smaller women's head and a larger volume of hair. Here you have Petzl's own innovative Omega headband system which allows for putting on and removing the helmet quite easily, and to adjust the helmet for different head shapes and hairstyles.
The name Omega comes from the shape of this headband, which is shaped nicely to accommodate a ponytail and to fit the head comfortably.
The position of the headband can be adjusted through 2 sliders that are on the outer shell of the helmet. You can see one in the picture on the right.
So you do not have to remove the helmet from your head. You can adjust both the circumference of the headband, and its position up and down on the back of your head to fit the ponytail.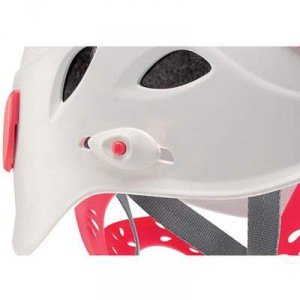 Below the outer plastic shell you have a protective foam, which is designed to absorb and disperse impacts. In addition to this, you have strips of soft foam which soaks sweat. These can be removed and washed.
The helmet may look too soft for some, but in fact, it is designed to absorb more energy than traditional helmets. It is therefore certified by UIAA (International Climbing and Mountaineering Federation).
The ABS material used here is generally far more durable than polycarbonate helmets, and these ABS helmets are far less expensive. My own Elios still looks the same after more than 7 years of use, and will clearly be my perfect tool for many years.
Ventilation and lamp attachment

Ventilation is achieved through stylish holes on the shell. You can see them in the pictures.
What you can also see in the pictures are clips for lamp attachment, 4 of them, similar to Elios helmet. Petzl has several well-known headlamp models of its own, some of them described within this site, like Petzl Nao, Petzl Tikka R Plus, or Petzl Tikka RHP. Those are great tools with intelligent reactive technology, and they all nicely fit the Elia helmet.
Summary of features & technical specifications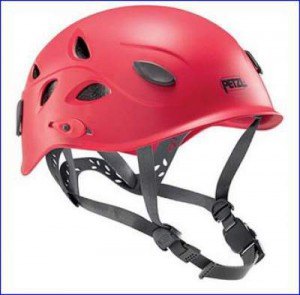 Best use: climbing, ice climbing, mountaineering, caving, via ferrata.
Weight: 285 g.
Head circumference: 50-58 cm.
3 colors: green, red, white.
Guarantee: 3 years.
Materials:
– lightweight and durable ABS shell
– expanded polystyrene liner.
Headlamp attachment: yes, 4 integrated clips.
Absorbent comfort foam which provides helmet's great stability on the head.
Certifications: CE EN 12492, UIAA.
 Cons
 Pros

Versatile.
Durable.
Reliable.
Great price for the value.
Very comfortable.
If you compare the size of Elia helmet with the size of Elios, you will notice that uni-size Elia is in between the two sizes of Elios (which are 48-56 cm, and 53-61 cm). However, it is lighter than any of the Elios sizes.
I wish to stress that Elios helmet, which I am using myself, is unisex, just to know if for any reason Elia climbing helmet does not suit you.
---
So to conclude this text about, this is a reliable tool with a great design and durability. This is a completely unique helmet on the market. To see how I rank this helmet with respect to some other models, please visit this post. For updates about the price please follow the links given above. 

Thank you for reading. I shall be happy to have some comment from you. Have a nice day.


---