---
This text is about Osprey Manta 28 AG, the newly redesigned and improved version of the popular Osprey's day pack. This is a small multipurpose pack suitable for various outdoor activities as well as for daily life.
Benefits of using such a pack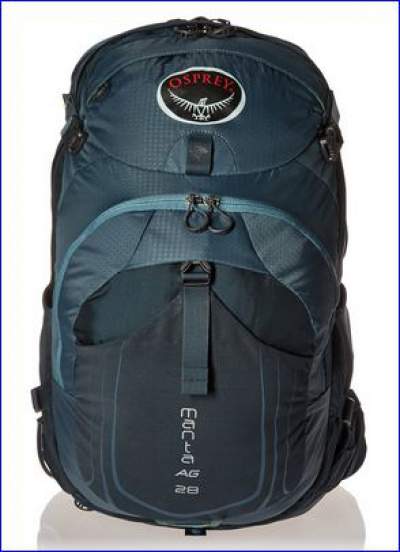 This is a panel-type backpack. So it looks like any ordinary pack to use in daily life, see the picture.
It has a separate compartment for a water bladder, but you can use this space as a computer compartment. The water bladder is included but it is easily removable!
It looks small, so you will not look strange when carrying it around town in everyday life.
It has a rain cover, good to have if your computer is inside!of
But if you are going outdoor for quick day tours, you have a great and reliable tool from a world famous brand.
See more about these features below.
AG in the name: new suspension system
The letters AG in the name denote 'anti-gravity', the new system introduced in several Osprey's series already.  Some of them are presented in the site, like several packs from the Atmos and Aura series, Atmos 50 AG, Aura 50 AG, Atmos 65 AG, and Aura 65 AG. This is a completely new and award-winning Osprey's design.
So what you have here are a light wire aluminum frame and a tensioned mesh. The mesh system is not something new, this was introduced by Deuter many decades ago, and it is used also in Gregory's packs.
But what is new in this AG system is the way how this mesh is designed. This is a continuous and seamless structure that covers the back side of the pack, shoulder harness, and the hip belt.
The whole system is such that the belt and the harness hug your body and distribute the weight over a far larger surface than what you have in traditional pack design where all weight is transferred to the waist region. This AG structure effectively removes hot spots, and the seamless design is there for this purpose as well.
The pack is hydration compatible. You have an external zippered compartment (see it in the picture below) and the 2.5 liters water bladder is included. The water hose is with a magnet clip to fix it to the sternum strap. This external compartment can be used as a space for a computer in your daily life.
The pack is panel loading type, so you have a long zipper on the top. Inside the main compartment, you have a mesh pocket on the back. So again, such a construction makes it looking like a nice day pack which you can carry to your office, and use in daily life in general.
On the front, you have helmet attachment loop. Below on the bottom, you have a blinker light attachment loop.
You have rain cover included with this pack. It is stored in a zippered pocket on the bottom of the pack.
On both sides of the pack you have two compression straps, they are visible in the picture below.
Pockets
There are many of them here. Two pockets are on the hip belt, nice and zippered, useful for small items and snacks.
On the top front section, you have one very small zippered pocket. There is one large zippered organizer pocket on the front, and inside of it, you have two separate mesh pockets as well, and the keys clip.
Yet another front stretch pocket is on top of the mentioned organizer pocket. It is secured with a clip higher up.
On both sides of the pack, you have one stretch mesh pocket for water bottle. They have both top and side entry points.
Stow-on-the-go attachment
This is a well known Osprey's feature, so you have it with this pack as well. This includes one bungee loop on the left shoulder strap and one loop on the side of the pack. You will use this to temporarily stow your poles when you are on move, and you need your hands free for any possible purpose. You will be able to see it in the video below.
These all features you can see in the following short video which shows general features of the Manta and Mira series:
Specifications
Two sizes:
– S/M: 1587 cub. in. (26 L).
– M/L: 1709 cub. in. (28 L).
Unisex
Weight:
– M/L: 1.22 kg (2.69 lb).
– S/M: 1.18 kg (2.6 lb).
Size:
– M/L: 22 x 13 x 12 in.
– S/M: 20 x 13 x 12 in.
Material:
– 210-denier nylon.
– Frame: steel alloy.
Torso fit:
– S/M: 16 – 19 in.
– M/L: 18 – 21 in.
Waist fit:
– S/M: 26 – 45 in.
– M/L: 28 – 50 in.
Colors: 3, see the pictures above.
Pros & cons
 Cons
 Pros

No bottom compression straps and attachment points.

Quality materials.
Multi-purpose pack.
Rain cover.
Water bladder included.
Good price.
The pack looks small for its volume. You can realize this if you compare it with yet another pack from the same brand, Osprey Kestrel 28, which is of the same size but classic top loading pack. Manta AG 28 also lacks more attachment points for hiking purposes.
This is a very new version, and so far it has not received customers' reviews at Amazon. But the previous version has received a very respectable 4.6/5 average rate.
What is new & different from the old model
Obviously, the suspension mesh system is completely new in this new AG version.
The front pocket is redesigned. In the old version, you have two of them, with vertical zippers and from the opposite sides.
Conclusion
To conclude this text is about Osprey Manta 28 AG, this is an improved version of the already existing model. The main change is in the suspension mesh. I rate it very high with respect to other packs mentioned above. This is due to overall features and price.
This is a multi-purpose pack. In daily life, you can remove the water bladder and the hose, and use the hydration compartment as a space for the computer. This compartment is equipped with a zipper and it is perfect for such a use. But if you are on some quick outdoor tour, just put the bladder back if you wish (but you do not have to, you have water bottle pockets there as well), and you have a great outdoor daypack.
Note that Manta series is available in the size of 36, 28, and 20 liters.
Thank you for reading. I hope the text has been useful. I shall be happy to have some comment from you. Please share it with others. Have a nice day.