---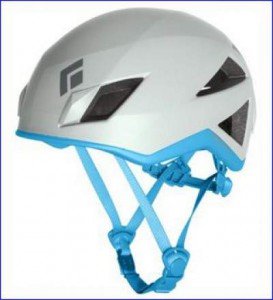 In this text, I give some essential facts about Black Diamond Vector climbing helmet. This is an ultra-lightweight tool built of foam which is protected by a tiny polycarbonate shell. The helmet is suitable for any sort of climbing.
With the weight of 8.1 and 8.5 oz (231 and 240 g) for the two sizes, it is not the lightest on the market. But the weight difference with respect to its closest competitors is in my view completely unimportant.
Design and materials
Vector helmet is from many points of view very similar to Petzl Meteor helmet, which is clearly its closest competitor. I have tried them both and could not feel the difference when I have any of them on my head.
Both are equally comfortable, and the weight difference of 11-15 grams you simply do not notice. This is understandable if you know that your spine and muscles support the head which is normally with the weight of around 4.5-5 kg. So such a tiny difference in the helmet weight cannot be an issue.
Vector helmet is also a bit bulky because the EPS foam makes the main part of its body. EPS stands for expanded polystyrene. As it is well known, this is an excellent thermal insulator with a high R-value, great strength, chemical inertness, low cost, and the material where no bacteria growth will develop.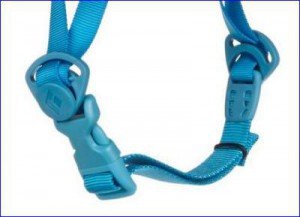 Inside the helmet, you have a nice padding that absorbs sweat. It is attached by velcro, so it can be removed and washed. Everything is protected by a thin polycarbonate layer from outside.
I wish to stress that helmets of this type should be handled with care. They are not designed to stand repeated impacts. So they are far less durable than helmets made of ABS plastic like Elios and Elia.  This is why I prefer plastic ones.
Suspension
The chin strap is well done (see the picture), the buckle is easy to handle even with gloves. The buckle looks more strong than the one you have in Petzl Meteor helmet, but indeed you do not have the magnet added here as in the case of Meteor.

The strap can be adjusted to fit your chin by simply sliding it through plastic elements on both sides of the chin, you can see them in the picture.
On the back, you have a rear adjustment band (shown in the picture on the right) which allows you to fit the helmet to your head circumference. I find it handier than the system used in the Petzl Meteor helmet.
In transportation and when you store the helmet, the whole suspension sits nicely inside the helmet.
Ventilation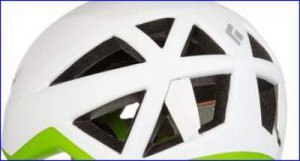 This is a strong side of the Vector helmet. The openings are mainly on the back of the helmet. You can see them here in the picture.  I guess this is because people sweat more in that area, and the other reason is that with this you will not have small stones falling in the helmet from above.
But with such huge openings, in the case of rain you will have no protection on your head. You can compare this with Elios, where the ventilation openings can be closed.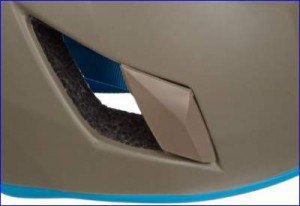 Lamp attachment
There are 4 clips for this purpose. You can see one in the picture. I find it a bit more difficult to slide the lamp strap under the clips, as compared with Petzl models. This is because of the in-mold construction applied here.
Here is a video by Black Diamond, about their Vector helmet:
Summary of features
Weight:
[S/M] 231 g (8.1 oz), women model
[M/L] 240 g (8.5 oz), unisex model.
Size:
[S/M] 53-59 cm (21-23 in)
[M/L] 58-63 cm (23-25 in).
Co-molded EPS foam with polycarbonate shell.
Large ventilation openings.
In-mold headlamp clips.
Tuck-away suspension.
2 sizes.

All colors of Black Diamond Vector.

8 colors available at Amazon for both men and women models: blizzard, black, orange, cafe, ultra blue, glacier blue, ice, laurel.
You will notice that the women model (size 1) is with a slightly bigger circumference than Elia helmet for women (with 50-58 cm) and size 1 of unisex Meteor and Elios (48-56 cm).
Observe also that the meaning 'women model' here implies just the difference in size, contrary to the Elia helmet by Petzl which has some true features for women.
User experience; pros & cons
After reading a number of users reviews, I see that they are very positive. Amazon users give it a very high average rate. A very similar situation I can see in several sites I have visited, including the Black Diamond site.
Here are some possible cons and pros:
 Cons
 Pros

Expensive.
Far less durable than ABS plastic helmets.

Very lightweight.
Comfortable.
Conclusion
To conclude this review about Black Diamond Vector climbing helmet, regarding its performance, it is very similar to Petzl Meteor.  So if you are in a situation to choose, this all will come just to the personal preference and the price difference. Regarding the price, Vector is definitely behind Meteor. For updates of the price please follow the links.
Thank you for reading. I shall be happy to have some comments from you, there is a comment box below. Have a nice day!